I Paid Off $30K in Student Loans While Traveling the World
---
Lauren Kubik
Dec 07, 2017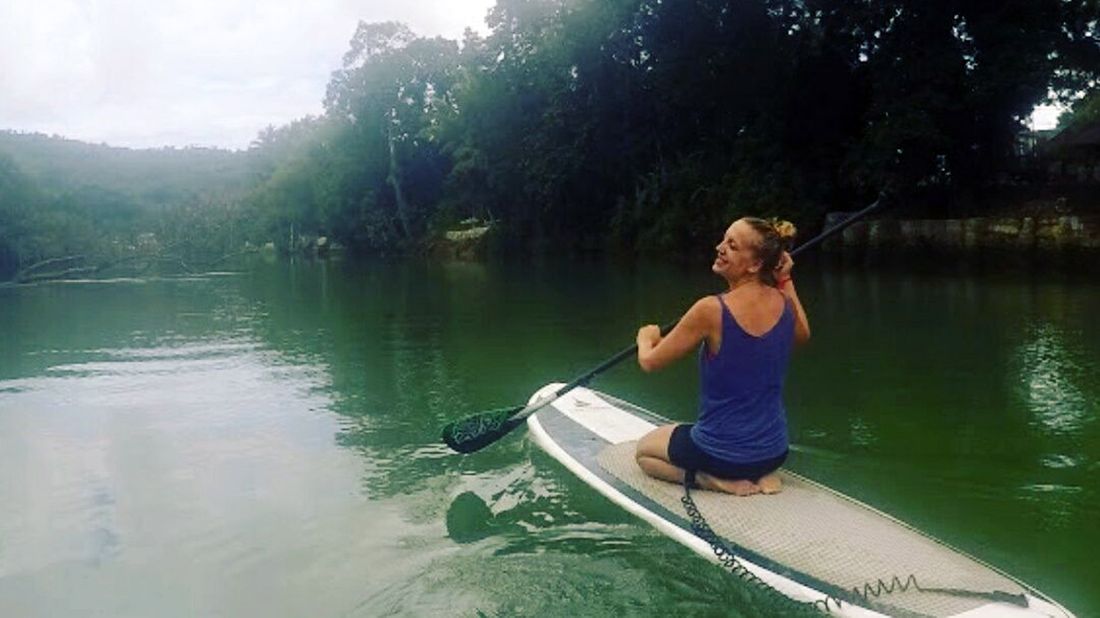 Debt: It's the four-letter word that can wreak havoc on your finances. In our Debt Confessions series, real people share how they tackled debt — from credit card bills to student loans to everything in between — and how it felt to reach their zero-balance goals.
Here, one woman shares how her love of travel motivated her to pay off her student loans ahead of schedule.
Waiting to board a plane for South Korea had me in a teary panic. Fresh out of college with just over $30,000 in student loan debt, I was about to use my liberal arts degree to teach English overseas. I was one of the 71 percent of college grads in 2012 who averaged $32,000 in student loans.
When I'd originally taken out the loans, I figured I'd pay them back with a normal office job after graduation. But then I got hooked on travel while studying abroad junior year. I wanted to trek through jungles, study different cultures and eat new food long after college was over. Knocking out debt while prioritizing a globe-trotting lifestyle became my goal.
HOW I PAID OFF $10K OF DEBT BY TEACHING ABROAD 
Through my final year of undergrad, I researched opportunities to work abroad. I wanted to travel extensively while also paying back my student loans. Moving to Korea to teach English was the answer. On top of teaching English to enthusiastic little kiddos, I had job security, good income, health insurance, paid vacation and minimal expenses. Plus, the job included round trip airfare and free rent, making it simple to save and pay down debt on a salary of about $2,000 per month.
Each month, I'd deposit my paycheck into four categories:
$1,000 for spending in and around Korea
$500 for student loans
$250 for my "Return to America" savings
$250 for my "Backpack Around Southeast Asia" fund
This salary, on top of the affordability to pop around various parts of Asia, allowed me to fill up the pages of my passport without delaying my debt payoff. Besides traveling all over South Korea during my 27-month stint abroad, I went multiple times to the Philippines, Thailand and Japan. After two years of teaching, I saved about $5,000 for travel, $5,000 for moving back to the states and paid off $10,000 in student debt.
CONTINUING TO SAVE ON A MODEST SALARY IN AN EXPENSIVE CITY 
After living abroad, my craving for IPAs and the Cascade landscape brought me back to the beautiful Pacific Northwest where I grew up. With nothing but my backpack and a few grand in savings, I moved to Seattle, my favorite U.S. city and where I went to school. I refinanced my loans to a graduated repayment plan, which allowed me to pay the bare minimum of $78 per month. But I felt trapped. I was barely able to make a dent on the remaining $20,000 with increasing interest rates. Still craving adventure, I knew that I had to reconsider my priorities.
I bought a beater car and searched for housing and employment. I found work at a few nonprofits which, while rewarding, never threw a lot of money at me. Nevertheless, I continued to turn things around by minimizing my lifestyle.
I paid $400 a month to rent a room in a six-bedroom house close to downtown. I have friends who pay upwards of $800 for a room or $1,300 for a studio in the same area.
I always had an additional part-time job, like crocheting and selling hats on Instagram, teaching ESL online, coaching soccer to little kids, barista-ing and freelance writing.
I bought almost everything second-hand. After tracking my clothing spending for a year, I averaged only $27 per month.
I chose to use mass transit, walk, or bike. After two years, I sold my car and said goodbye to fuel, service and insurance charges. My work also paid for a bus pass, which was a huge help financially.
As a result, spending less on tangible items, increasing my earnings and becoming travel-savvy has given me freedom to take off when I want.
Crocheting and selling hats funded a trip around Europe in early 2016.
Booking a flight through a budget airline got me back to the Philippines in late 2016.
Using the cash from selling my car paid for a road trip in Iceland during the spring of 2017.
Credit card miles have allowed me to visit Austin, Chicago, D.C., Denver and Oahu, where I've stayed with friends and family.
BECOMING DEBT-FREE AT 27
In early October this year, at age 27, I made my final student loan payment. After five short years, I can now begin to plan my next adventure abroad without the added weight of student loans. I currently work as a part-time online English teacher, which generates extra income on top of my full-time job in social services. Now that half of my income is no longer reserved for student loan payments, I'm building up my savings to move to Thailand in March 2018.
I've learned paying off debt is a lot easier when you give yourself a reason to. My own reason is to seek adventure in different corners of the world — motorbiking around Vietnam, snorkeling in Boracay, climbing Mt. Fuji and biking through the temples of Angkor. My finances are by no means perfect (I'm probably keeping the breweries around Seattle in business). But it's all about finding balance and working toward your own kind of freedom. Venturing out of my comfort zone and moving to Korea in 2012 was the push I needed to know it's possible to trek the globe while eliminating debt.
Take the next step
Our advisors will help to answer your questions — and share knowledge you never knew you needed — to get you to your next goal, and the next.
Get started
Want more? Get financial tips, tools, and more with our monthly newsletter.