Northwestern Mutual
Jun 30, 2017
Meal Planning on a Budget: 8 Tips Anyone Can Follow
To paraphrase Benjamin Franklin, "If you fail to meal plan, you are planning to fail." Although not his exact words, they still apply. With a bit of forethought, you can save money and improve your health by meal planning. The following tricks will put you on a path to cooking fresh meals that minimize waste and eliminate the question, "What's for dinner?"
Shopping from a list will lessen the temptation to spend money on things you don't need.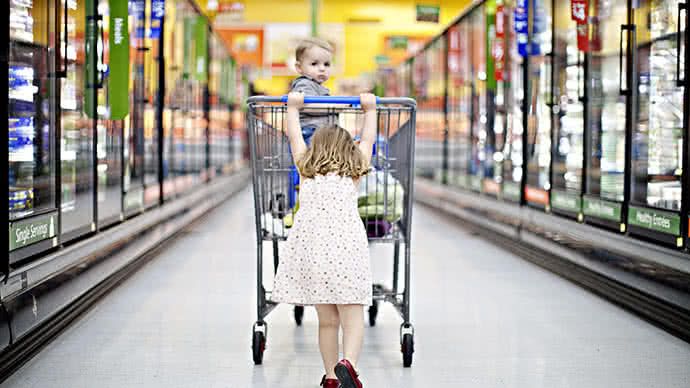 When you meal plan and shop from a list, you can cut down on time wandering grocery aisles — and save money avoiding impulse buys. Twenty20
SCHEDULE PREP TIME

Block out 30 to 60 minutes each week for meal planning at a time that is generally quiet, like over your morning coffee or after you put the kids to bed. The more you do it, the faster and easier it will become.

If you don't have a shopping routine already, make time for that, too. When you meal plan and shop from a list, you can generally get everything you need in one weekly trip. Planning and shopping should go hand in hand so you have all the ingredients for your first meal. You may even want to clean and chop some produce in advance to save time later.

FILE AWAY RECIPES

File recipes on sites like Google Drive, Dropbox and Pinterest for easy access wherever and whenever. With a couple of quick taps, you can pull them up on your smartphone or tablet while shopping and cooking. You can also find recipes others have saved or pinned on Pinterest. Type in "slow cooker pot roast" and you'll find dozens of options!

A good storage solution also needs organization. Create an easy-to-navigate filing system, sorting recipes by type, ingredient or category, such as "This Week," "Family Favorites" or "Pinned There, Cooked That." Don't be afraid to switch things up if your initial system doesn't work for you.

Save all the recipes you've made — whether you liked them or not — and jot down your thoughts and adaptations so you don't have to re-invent the wheel each time.

MANAGE YOUR INVENTORY

Track what you have in your fridge, freezer and pantry on a dry-erase board in your kitchen or a checklist on your smartphone, and reference it while meal planning to use what you already have. When you run out of something, immediately move it from your "on hand" list to your shopping list to restock common ingredients.

SHOP THE SALES

Watch sales and specials to save money on menu ingredients and stock up on staples. Warehouse clubs offer great values too — as long as you use everything you buy! If the quantity is just too much, split bulk packages with friends to maximize savings and minimize waste.

MAKE THE MOST OF INGREDIENTS

When you need only a quarter of a cabbage or a tablespoon of tomato paste, you may throw out a lot of food, so find ways to use as much of each ingredient as possible. If you roast a chicken or pork loin, shred the leftovers for tacos, salads and soups later in the week. Use half a bell pepper for stir-fry and the rest for chili. Sites such as Yummly, MyFridgeFood and SuperCook allow you search for shared ingredients so you aren't left with half an avocado.

LOVE YOUR FREEZER

Instead of using leftovers right away, you can usually freeze them. Many raw ingredients and prepared meals keep well in the freezer, making for a quick and easy plan later in the month. If you're feeling ambitious, freeze vegetable scraps and bones to make your own broth!

STICK TO YOUR LIST

Shopping from a list will lessen the temptation to spend money on things you don't need. Unless you see something that will keep until you can work it into your plan and is a great deal that you just can't pass up, keep walking and watch your savings add up.

If your meal plan centers around shared, minimally processed ingredients, it should cost less than buying a week's worth of processed foods. Focus on fresh produce, meat, fish and dairy. Frozen or canned foods without added ingredients are great, too. Use oils, vinegars and seasonings to make your own salad dressing and flavor packets, like taco mix. By making only what you need, you will throw out less, thus saving money

WHEN IN DOUBT, OUTSOURCE

The internet abounds with meal-planning resources at a variety of price points. Some magazines and bloggers offer menus for free while other sites customize plans based on dietary preferences or seasonal produce.
With a little planning and dedication, you can cut down how often you throw away food or order takeout. However you decide to meal plan, your wallet and waistline will thank you.
Take the next step
Our advisors will help to answer your questions — and share knowledge you never knew you needed — to get you to your next goal, and the next.
Get started