Meal Planning Tips to Remember the Next Time You Shop for Quarantine Groceries
---
Carl Engelking
Apr 10, 2020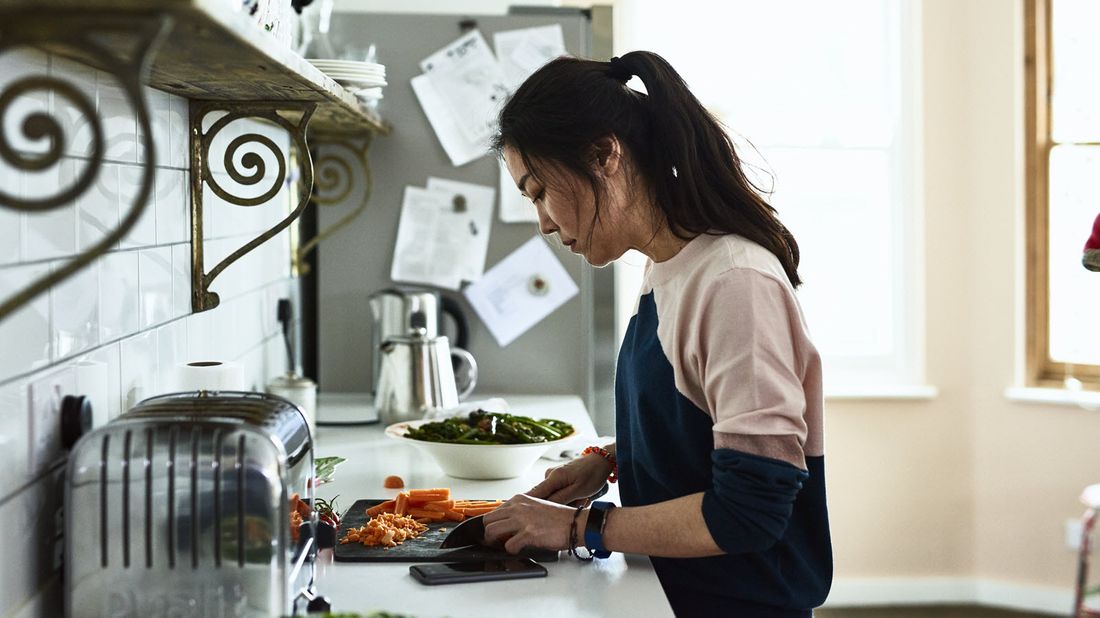 Many of us have thrown out our old daily routines to join the effort to contain the coronavirus. Restaurant-goers now find themselves cooking at home, while fresh market grazers have had to shop for weeks at a time to drastically cut down on grocery store trips. This is a big adjustment and might have some people perplexed over how to shop for two weeks' worth — or more — of family meals.
But in some parts of the country, meal planning, stretching ingredients and limiting trips to the grocery store are just a way of life — especially when the nearest "convenience" store is an hour's drive away. That was the reality for Skye Borden, who grew up on a farm in Alabama and has since moved to Missoula, Montana, where she runs an environmental advocacy group.
"A lot of people, particularly those in more urban areas, are used to convenience. They can get what they need, when they need it. Now, that's not possible," says Borden, who has spent most of her life in rural communities. "Now people are learning to work with what they've got, and I think that's an intimidating change."
Recognizing some urban dwellers may find it tough to shop right now, she recently shared on Twitter some of her meal-planning tips for when you can't get to a store. Below are some of her top tips.
ROOT VEGETABLES LAST LONGEST
Root vegetables, such as potatoes, carrots and onions, can last for almost months if you store them correctly. However, not all root vegetables are created equally. Different root veggies require different conditions for optimal shelf life — don't store onions next to other vegetables, for example. You can find vegetable-by-vegetable storage guides online.
GO VEGAN WITH YOUR BAKING
Apparently, meal prep during a crisis involves a lot of desserts, judging by the fact that baking ingredients are flying off store shelves. But now would be a good time to consider going vegan (at least for your baked desserts). Why? "Vegan baking often substitutes shelf-stable ingredients (like almond milk and applesauce) for perishable items like milk and eggs. In a pinch, it helps to have these things on hand," Borden says. New to vegan baking? Here's a good place to start.
KEEP AN 'EMERGENCY' STASH
You've heard the recommendation time and again that you need an emergency fund to help you weather those bad days when your finances take a hit. The meal equivalent? Your "emergency bad day" food — those comfort foods that help lift your spirits when things don't go as planned.
"This one requires a little self-control: Buy 'emergency bad day' food and keep it tucked away somewhere. Even the worst days can be made incrementally better if you have stovetop s'mores, in my opinion," Borden says.
DON'T UNDERESTIMATE YOURSELVES, COFFEE DRINKERS
"Coffee y'all. I cannot stress this enough. You probably drink more than you think. Buy at least one extra bag and stick it in the freezer," she says.
The National Coffee Association says you can store coffee up to one month this way, but you can probably go longer.
PORTION YOUR MEATS, CARNIVORES
Few things are more discouraging than looking forward to cooking a meal, only to find out it'll take three hours for the main course to thaw out. "For my carnivores: freeze meat in individual or single-recipe portions. No one wants to thaw out 10 pounds of chicken thighs at once," Borden says.
BE READY FOR 'CLEAN OUT THE FRIDGE' MEALS
"You can make a ton of different 'clean out the fridge' meals just by learning a couple base recipes and keeping the ingredients on hand," Borden says.
Borden suggests two go-to recipes. One is for pie dough. Clearly, you can use it for dessert pies, but you can also use it for quiches, chicken pot pies, hand pies and more. A basic roux recipe can also help serve as a delicious base for a variety of sauces, from mac n' cheese to gumbo.
"Who would want to be stuck at home without gumbo?" Borden wonders.  
THE CROCKPOT IS YOUR FRIEND
"There's a pretty good chance that dinner is going to be a little more labor-intensive for you than it used to be. Do yourself a solid and add in some crockpot meals to your week if you can," Borden says.
AND SO ARE YOUR NEIGHBORS
"When you're far away from services, you learn to count on your neighbors for everything that you can't handle alone, and they do the same for you," Borden says. "I think we'll all need to adopt more of that attitude as this pandemic strains our communities." So share recipes or leave some of that vegan cake on your neighbors' doorsteps — it helps to know we're all in this together.
Take the next step
Our advisors will help to answer your questions — and share knowledge you never knew you needed — to get you to your next goal, and the next.
Get started
Want more? Get financial tips, tools, and more with our monthly newsletter.