This Couple Took Control of Their Finances — And Paid Off $52K in Debt
---
Amanda Reaume
Mar 12, 2018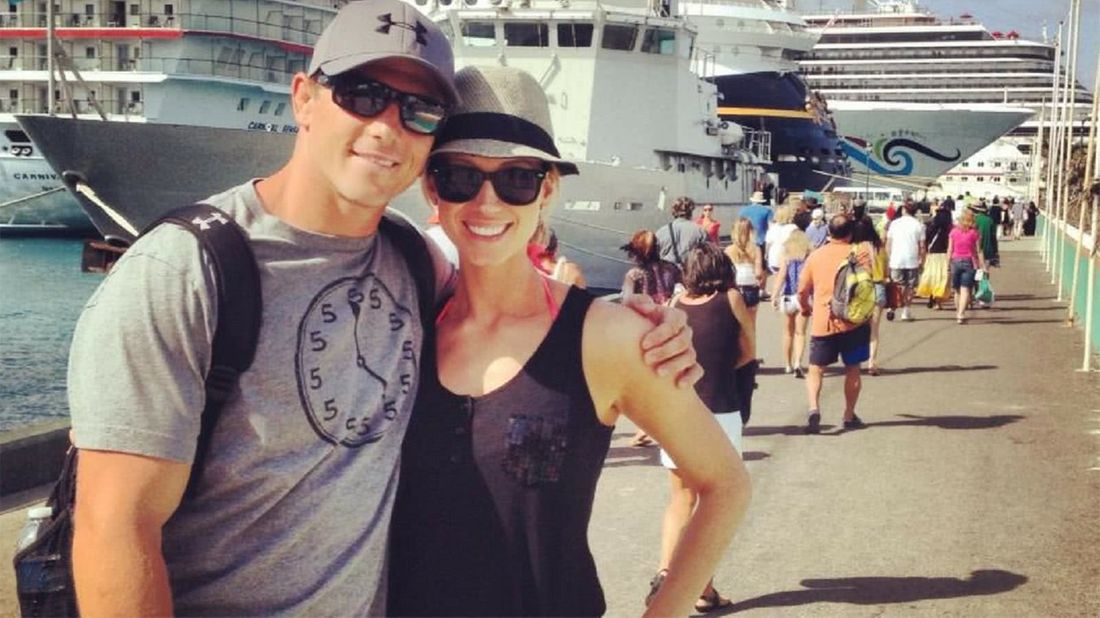 Debt: It's the four-letter word that can wreak havoc on your finances. In our Debt Confessions series, real people share how they tackled debt — from credit card bills to student loans to everything in between — and how it felt to reach their zero-balance goals.
Here, one couple shares how they went from maxing out their credit cards to paying off $52,000 in debt in less than 1 year.
"No" wasn't a word that Chris Peach, a firefighter, and his wife Andrea, a television news anchor, used very often — especially when it came to their spending habits.
"We had just finished college and were entering into our adult years, which meant it was time to have as much fun as possible," Chris recalls. "We had a great income, we worked really hard and we simply felt like we deserved to live life to the fullest."
It started when the couple, both now 35, said "yes" to buying a brand-new luxury SUV. Next, they said "yes" to a big house in a nicer area of town in Phoenix, Arizona. Then, they said "yes" to a lot of other purchases they didn't really think much about. "Anytime someone would ask us out to a fancy dinner, a weekend getaway or even a cruise to the Caribbean," Chris remembers, "we would always say 'yes.'"
But all those yeses started adding up. "As time went on, the debt slowly started to accumulate," says Chris. "We would ease our worries by reminding ourselves we could work a little harder, get a raise at work, and it would all just work out."
They ignored the growing debt until one day Andrea called Chris in a panic. She had just gone grocery shopping and all her cards had been declined. That's when the couple knew they needed to make a big change. They had racked up over $52,000 in debt in just three years. They had a 10-month-old baby. It was what Chris refers to as their "Oh, crap!" moment. "The biggest problem was that our behavior was out of control," he says. They set a goal to take control of their finances and pay off their debt as quickly as possible.
CREATING A BUDGET
The Peaches created a monthly budget and began cutting back on expenses. "At the time, we both thought budgeting meant adding up everything you spent at the end of the month and checking to see if it was more or less than your income," recalls Chris. "The first month was terrible because we didn't really know how much we should, could or would spend in each category. Andrea and I both spent a few hours creating the budget before the month started and then had about 55 budget-correction meetings." (New to budgeting? Learn how to create a monthly budget.)
Eventually, the Peaches accounted for all of their expenses and cut back on things that didn't fit with their plan of getting out of debt. "We had a plan for every single dollar in our lives," says Chris. That included getting rid of expenses like cable TV and cutting back on other purchases like eating out and random shopping trips. They saved on groceries by shopping sales, using coupons and bringing flyers from other stores to get price matches.
"No one believed we could pay down all of our debt except for us."
WATCHING THE DEBT DISAPPEAR
It took a while for the couple to get on the same page. "In the beginning, I was much more excited about budgeting than Andrea was, and we were pulling each other in two different directions," says Chris. "To stay motivated, we created a visual chart to show our progress, and we hung it up on our refrigerator. Every time we paid down or paid off a debt, we would fill in what we paid off."
This visualization helped them to see their progress. "After two months of wins with our budget and paying off debt, it started to become a contest for us," says Chris. "How much could we really cut back? Could we pay off a debt by the end of the month? How far would we be willing to go?"
ADDING MORE INCOME
To help pay off the debt even more quickly, Chris took on more overtime at the fire department and started a side gig cleaning pools on his days off — which added up to an extra $1,000 per month.
Meanwhile, Andrea decluttered and began selling items they no longer used on sites like Craigslist and eBay, which also helped fast-track their repayment. "She was very busy with our 10-month-old during that time," says Chris. "But when she had a free moment, she would be taking pictures of purses, jewelry, sunglasses and even furniture to post online for sale. It eventually became her hobby."
CELEBRATING BIG (AND SMALL) VICTORIES
Each time they paid off one of their debts, they'd celebrate by going out for a cheap dinner. They also supported each other through it all. "There were times when I would come home exhausted and frustrated, and Andrea would remind me why we were doing all this in the first place," Chris recalls. "Then there were days when she was down, and I was there to pick her up and remind her about our goals and dreams."
By focusing on their goal, they paid off the debt in less than a year. Chris says that feeling of paying off the last debt is hard to put into words. "No one believed we could pay down all of our debt except for us," he says. "And when we did, it felt like that moment of victory, when the underdog defies the odds."
Take the next step
Our advisors will help to answer your questions — and share knowledge you never knew you needed — to get you to your next goal, and the next.
Get started
Want more? Get financial tips, tools, and more with our monthly newsletter.