The Parent's Guide to Paying for Your Kid's Wedding
---
Natasha Burton
May 17, 2023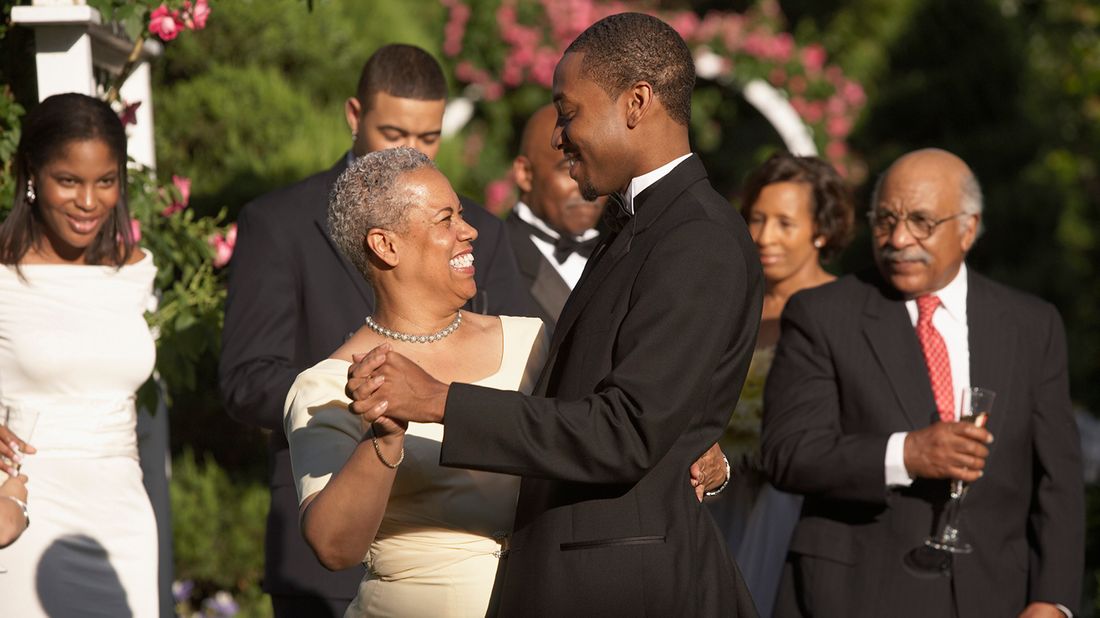 While it was once customary for the bride's family to pick the wedding tab, times have certainly changed. These days, parents, on average, cover 51 percent of the budget while couples take on the remaining 49 percent, according to a recent report from The Knot. Even though it can feel more equitable to share the financial load, both parties are still shelling out a big chunk of cash for the big day: Thanks in part to inflation, weddings are projected to cost an average of $29,000 this year.
Bankrolling such a large-scale event invites big emotions—and sometimes even bigger expectations. So before your dive into the planning, check out these expert tips for ways to contribute to your child's dream wedding without straining your relationship—or your finances. 
The Parent's Guide to Paying for Your Kid's Wedding
Set clear money expectations
The first and biggest step to a smooth wedding planning process is being upfront about how much you can contribute to the wedding, says elopement and micro-weddings expert, McKenzi Taylor, owner of Cactus Collective Weddings and Electric Sugar Elopements. While she suggests letting your child and partner use that money however they choose (perhaps even for non-wedding expenses like the honeymoon or a down payment for a home), some parents may choose to define how they want those funds used.
"If you want to have a say and input tied to your contribution, you should be very clear from the beginning," Taylor says. "However, in those cases, you might have to be prepared for your child to turn down the money or disregard your input."
Definitely speak up if there's something you would not feel comfortable paying for," says Anil Kumar, founder of online matchmaking platform Jodi365 and wedding planning platform Peepul365. "Be reasonable and clear ahead of time so that there are no surprises."
Discuss the guest list early on
A big potential point of contention for couples and their parents is who gets to attend the wedding—and who doesn't. Avoid conflict by discussing the size and scope of the wedding along with the budget, especially since adding more guests after planning is already under way can add unexpected costs.
"If parents are set on having a large number of guests, find a compromise," Taylor suggests. "Maybe the ceremony is small and intimate, but the reception can be larger to accommodate the extra people." You could also host an engagement party for family friends and extended relatives if the couple insists on a smaller celebration.
Setting clear boundaries is another way to handle the guest list. You might decide to set limits such as "only first cousins" or "each parent may invite X number of guests."
Take the next step
Our advisors will help to answer your questions — and share knowledge you never knew you needed — to get you to your next goal, and the next.
Get started
Enlist professional help
Unless you, your child or their partner is a professional event planner, it's a good idea to hire outside help to assist with the logistics. (And many venues will require that you retain at least a day-of coordinator anyway). While hiring a pro will take a chunk of your budget, this person can help you stay on-track money-wise and make thoughtful suggestions for saving cash along the way by helping you decide what details really matter. Not to mention, Kumar notes, a wedding planner can lend an objective outsider's perspective.
While not the only option for getting outside input, "a wedding planner with a good reputation for organizational planning and integrity can be helpful with decision making, especially in the face of inevitable differences in opinion," he says.
Taylor even suggests talking with a money therapist or advisor. "A wedding is sometimes the first time a family actually talks about money together," she explains. "It can be awkward and uncomfortable. By involving someone who can mediate the discussion, you help prevent any misunderstandings or misconceptions."
Remember that times have changed
While many couples continue to follow the more traditional wedding format—ceremony, cocktail hour, a formal meal—your child may want to forgo some traditions, such as having flowers on tables and a champagne toast.
"Respect your child's vision and idea of how things should look, keeping in mind that trends and traditions change over the years," Taylor says. "Also, this generation is much more interested in experiences over the traditional elements their parents might have been more invested in."
Show your support and generosity by reserving judgment if the couple makes a choice you don't agree with—especially if said choice ends up backfiring, Kumar adds. "Saying, 'It's OK; snafus happen,' or 'Don't worry, sweetheart, we'll find a solution,' would be much more loving and constructive than an 'I told you so,'" he says.
If there is a detail that really matters to you, express your opinion then, Kumar says. But choose your battles wisely since you can't expect to choose—or even have a say in—every single aspect of your child's wedding.
Appreciate that this is their big day
It's easy to get emotional, and even heated, in the throes of wedding planning—especially when your money is funding the event. But ultimately, the big day belongs to the happy couple no matter who is paying, Kumar says.
"People who don't appreciate that may want to reflect on the baggage that's standing in the way of understanding that it is, ultimately, the couple's day," he says.  
Taylor agrees. "My advice would be to let your child and partner create the wedding of their dreams not your dreams," she says.
Want more? Get financial tips, tools, and more with our monthly newsletter.