In most households, the refrigerator is a perfectly fine spot to display kids' artwork — but frankly, that wasn't going to cut it for Cedric and Mary Ranada of Milwaukee.
The Ranadas needed something bigger and more permanent to showcase the creativity of their 5-year-old son, Mace. With dozens of drawings ready to be displayed, they wanted to be able to preserve and enjoy those special mementos for years to come. Their idea? An interactive gallery where their mini-artist's work could be displayed and celebrated every day, plus a place where the whole family could come together to unleash their creativity.
So when they shared their vision with Northwestern Mutual as part of our #IfItWasUpToMyKid contest, we had to help them bring it to life.
We called in a crew to transform their underused, drab basement into an inviting, bright and colorful space where everyone can hang out. A previously blank slate is now a gallery where Mace's artwork gets the spotlight. Scrolls of paper line the walls for every moment creativity strikes. A polaroid camera and bulletin board filled with photos help document the fun. The family fun center holds a ton of arts and crafts supplies — paints, pipe cleaners, crayons, markers and even a chalkboard wall — so every member of the family can bring out their inner artist.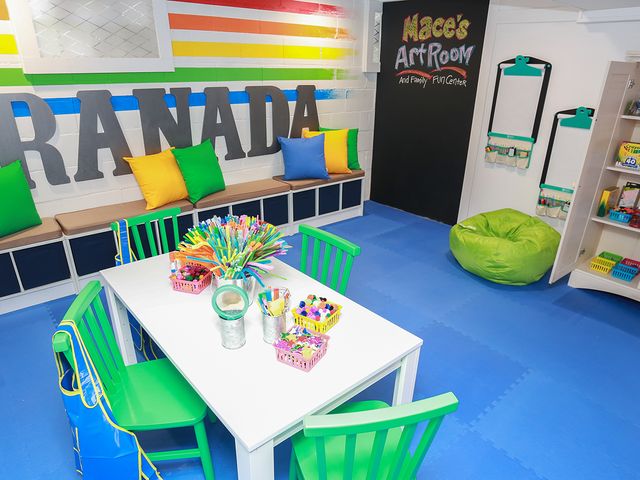 "Now we can use it to its full potential," Mary says of the space. "This will make our house a cool house, where everyone is free to draw anything they want and just be free to express whatever to their heart's content."
With the family's busy schedule — Cedric works for Southwest Airlines and Mary is a nurse at the nearby Veterans Affairs hospital — the space has been transformed into a place where they can have hands-on experiences and reconnect at home. They're also excited to invite Mace's neighbor friends over to join the fun during playdates.
"It's the perfect place to make more memories," Cedric says.