Tips for Parents on How to Create Structure for Kids During the Day
---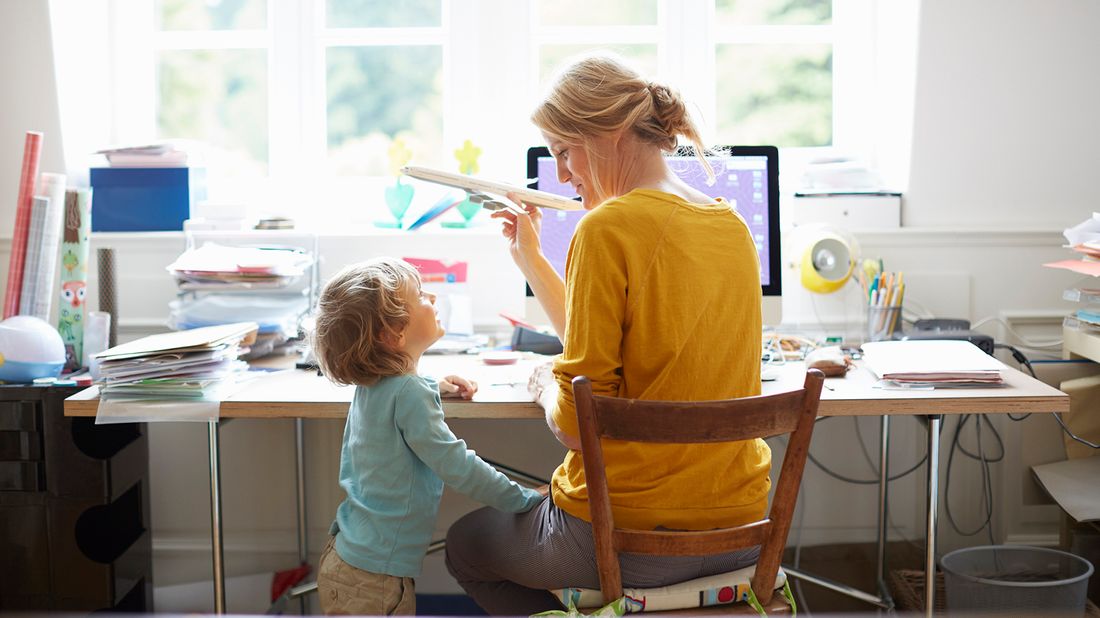 We've all seen them: The beautiful color-coded schedules on Pinterest that look so simple and pristine. As more parents take on the job of homeschooling kids during the coronavirus crisis, those picture-perfect printables sure are tantalizing.  
But for many families, here's what it really looks like:  
8 a.m.: Breakfast 

8:30 a.m.: Morning meditation and yoga 

8:31 a.m.: Sibling fight club, mom loses all hope, day dissolves into chaos 
What we all need is to give ourselves a break. "Even the schools are sending out the message that says 'Listen, this is an experiment in the making,'" says Rosemarie Truglio, senior vice president of curriculum and content at Sesame Workshop. "We're all in this together. It's not ideal, but we have to do it." 
Most parents are not educators, so recreating the expertly cultivated school environment at home will be nearly impossible. Here are a few realistic tips on how to create structure for kids of all ages. 
FOR LITTLE KIDS  
To give younger children a sense of responsibility and pride, let them take the lead in planning their routine. While that might sound surprising, they're the ones who lived the routine while they were in school, after all. 
"I would empower the child to come up with the structure," Truglio says. "Think about it: From a really young kid's point of view, they are much better at putting a routine schedule together than the parents." Plus, "the more control we give kids, the better it is for their own mental health," Truglio adds. "Putting them in charge is kind of fun."  
And lest you think structure is all about disciplined learning, remember that for kids this age, play time is learning time, too, so your "schedule" can include things you're already doing.  
"Your children are learning through everyday moments as well," says Truglio, who's also the author of "Ready for School! A Parent's Guide to Playful Learning for Children Ages 2 to 5." "Right now, we're doing more cooking and baking at home. These are math, science and literacy lessons." 
FOR MIDDLE SCHOOL KIDS 
Tweens are at a tricky age: They can handle more responsibility but may not be ready to shoulder the total responsibility of structuring a schedule on their own.  
To help get them started, create a dedicated learning space. "To minimize distractions and increase productivity, it's important to control the environment," says Amy McCready, founder of Positive Parenting Solutions. "Set up a learning area for each child with school supplies handy. Be sure it's free from distractions and has everything they need to avoid getting up and interrupting their workflow." 
Here's where to follow your school's lead and incorporate whatever materials teachers have sent home. Keep in mind that your main goal is helping your kids develop their executive function skills (i.e., cognitive capabilities, like how to prioritize, adapt and manage emotions). 
"Focus on how to learn and less about what to learn," Truglio adds. "When you're not able to focus or shift your attention when you're dealing with disappointment or frustration, how do you calm down your emotions and think outside the box in terms of creativity? These are really important messages. It's not about worksheets and flashcards."  
Flexibility is the name of the game, so "if what you plan to do after breakfast gets moved to after lunch, it's OK," Truglio says. "When you talk about raising resilient children, flexibility and overcoming disappointments and challenges are really key lessons."  
FOR TEENS  
Older kids' course loads are going to be intense. "They're going to have a schedule and they're going to be pretty independent," Truglio says. "As parents, you're just making sure they're sticking to that schedule." 
But even the most stringent online curriculums build in breaks and breathers. No matter how old they are, kids can't be expected to stare at a computer screen for five hours on end. 
One strategy employed by schools: Shorten the duration of "classes" so that each subject lasts for 30 minutes, with 15-minute breaks in between. At this age, the onus can be on the child to get his or her work done. But your main job as a parent? Making sure your kids are OK.  
"This is a stressful time. And I'm really worried about the mental health of our children," Truglio says. "If their mental and physical health is not in check, they're not going to learn."  
FOR EVERYONE (PARENTS INCLUDED) 
Perhaps the most important part of any kid's schedule, whether they're 5 or 15, is family time. Remember that physically sharing the same space (even in quarantine) isn't the same as interacting, Truglio says. 
You may find everyone is in a better mood when you set aside some intentional family time. "Spending just 10 minutes per day of uninterrupted, one-on-one time with each of your children works like magic to build emotional connections, reduce negative behaviors and make kids more cooperative throughout the day," McCready says. "If you have multiple kids and think you don't have time, I promise you'll get this time back in spades, because negative, attention-seeking behaviors will melt away." 
As for those screen-time restriction rules? They apply to you, too.  
"Be sure you're fully present during this time," McCready says. "No glancing at phones or smart watches allowed. Your kids need to know they're your top priority." 
Take the next step
Our advisors will help to answer your questions — and share knowledge you never knew you needed — to get you to your next goal, and the next.
Get started
Want more? Get financial tips, tools, and more with our monthly newsletter.