What Baby Gear to Buy New, What to Buy Used and What You Can Skip
---
Cathie Ericson
Aug 14, 2019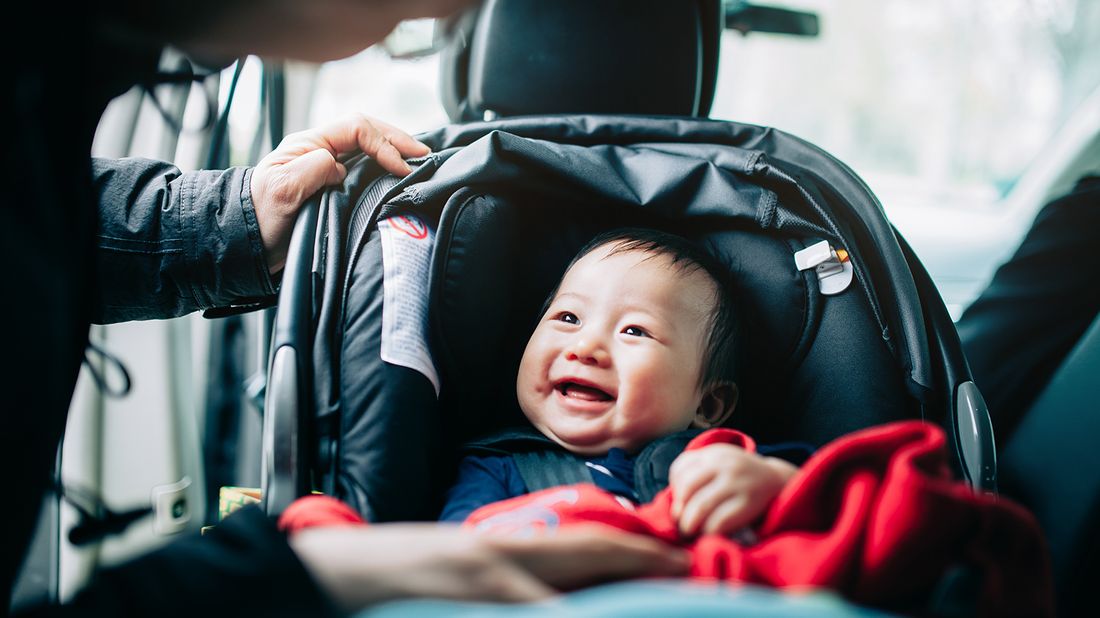 If you're a new parent, prepare to be overwhelmed. No, not by your newborn's schedule or those endless sleepless nights — though make no mistake, they are real — but by the sheer amount of stuff that you will be told to buy.  
How can one 7-pound bundle need so much stuff? And, how will you ever afford it all?  
The good news: You don't necessarily need to buy all of it new … and, better yet, you don't necessarily need it all. Here's what baby gear experts say you need to have new, what you can safely buy used and what you can skip altogether.  
Absolutely buy these things new 
Car seat: Many car seat manufacturers provide an expiration date to their products, which in general is six years after manufacture date (not the purchase date). You can check the manufacturer label located on the side or base of the car seat to find it — and contact the company directly if you can't. Even if you feel you're in the clear timewise, another reason to buy new is that you should not use a car seat that has been in an accident. "Since parents can never guarantee that the no-accident condition has been met, car seats should be purchased brand new," cautions Denise Stern, CEO of Let Mommy Sleep, which provides overnight infant care. And remember that a car seat is only as safe as its installation. Find out more about proper car seat installation here.  
Crib: A new crib means you can be sure the piece meets the latest, ever-changing safety recommendations, says Julie McCaffrey, founder of BabyNav, a baby planning and maternity concierge service. "If you absolutely have to buy used, never buy an antique or drop-side crib." 
Crib mattress: A crib mattress must be firm, says Stern. "Err on the safe side and purchase one that is new to ensure it doesn't dip in the middle, which may not be apparent until it's actually used for sleep." 
Breast pump: As part of the Affordable Care Act, every pregnant woman has access to a free breast pump through her insurance provider, and every woman should take advantage of that, says McCaffrey. "Using a used breast pump risks cross-contamination from the previous user." 
A good stroller lasts for years, and you can get amazing deals on one.
Save by buying these things used
Baby clothes: Yes, you're probably going to be showered with adorable tiny clothes when your infant is born, but you'll soon find that babies are incredibly messy, necessitating frequent changes — and the last thing you're going to want to do is constant laundry. So go ahead and stock up on used outfits; just inspect that all snaps are in place and give them a good wash, suggests McCaffrey.  
Baby carrier: Baby-wearing has been proven to soothe babies, Stern notes, which makes this a great item to have. But since they can be costly, go ahead and get a used one. 
Strollers: A good stroller lasts for years, and you can get amazing deals on one, says Stern. For example, the popular UPPAbaby Vista stroller can top $900, but a quick search shows some used ones as low as $150. "You may want to give it a good cleaning, but given that strollers have no serious safety issues, they are a great second-hand deal."  
Nursery furniture (except the crib): From gliders to changing tables, these spendy pieces of nursery equipment are simple to wipe down before relocating them to your nursery. "It's also easy to update them to match your own design, even with a minor change like swapping out the knobs on a dresser," McCaffrey says. 
Bouncy seats, baby swings and play yards: These contraptions are great for keeping baby safe and entertained and are easy to sterilize. Just make sure that any parts, such as toy bars and electronic components, are included and working, McCaffrey says. 
Skip these over-hyped items altogether  
Car seat mirror: Your baby is cute, but gazing at him means your eyes are not on the road, which is exactly where they should be. "These may seem like a safety feature so you can keep an eye on your baby, but they actually make you a distracted driver," McCaffrey cautions.  
Floor seats (like a Bumbo): First off, there is a debate on whether these seats are developmentally beneficial, McCaffrey says, but either way you only use them for a very limited amount of time. "Also, some babies just don't want to stay seated in them, and some just don't fit very well in them if they have adorable chubby thighs." 
Highchairs: Cute, but a waste, says Stern, who recommends getting the small chair that attaches to the table and eventually the booster that straps to a regular chair. "Less expensive, saves space and means less to clean — why wash an additional tray for baby when you're wiping down your table anyway?"  
Wearable monitors: "Unless you know your baby is coming home at a very low weight or with medical issues that indicate you need to know their heart rate or pulse, these tend to make new parents even more anxious than they already are," says McCaffrey. 
 And finally, remember that just because stores sell something doesn't mean it's safe, cautions Stern, noting for example that crib bumpers are not recommended for use by the American Academy of Pediatrics. And always check for a potential recall on any item; search the database and sign up for alerts at the U.S. Consumer Products Safety Commission and/or SafeKids.org. For example, Fisher-Price has recalled all models of its popular Rock 'n Play Sleepers, but they still could slip through on the secondhand market. 
Take the next step
Our advisors will help to answer your questions — and share knowledge you never knew you needed — to get you to your next goal, and the next.
Get started
Want more? Get financial tips, tools, and more with our monthly newsletter.