4 Things to Buy in April — And 4 You Should Skip
---
Catherine McHugh
Apr 04, 2022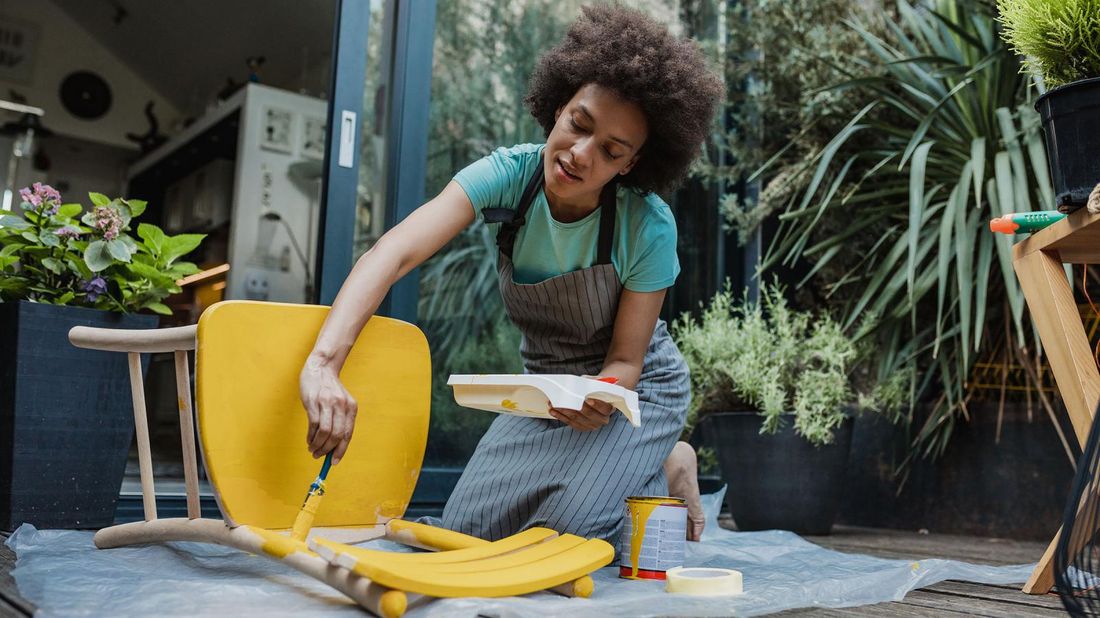 Tree buds are emerging and birds are singing; April is the season of renewal. But shoppers aren't welcoming the sticker shock they're experiencing in stores: According to a recent survey by BlackFriday.com, 72 percent of American consumers are more concerned than usual about inflation.
"Supply chain issues and inflation are affecting consumers and still very much impacting retailers and their promotions," says shopping expert Mackenzie Shand of BlackFriday.com. "But April still offers many opportunities to save across a variety of product categories."
Here are some of the best things to buy in April, and a few of the categories you should hold off on.
What to buy in April
H

ome improvement items
From painting to yardwork, spring is when homeowners start to think about giving their homes a little refresh, so expect to see some of the best sales at retailers like Home Depot and Lowe's.
Lowe's will be kicking off its Spring Fest sale on April 7, which runs through the entire month, and Overstock typically has sales during this time period, according to Shand. Plus, "we expect Wayfair to kick off its Way Day sale sometime soon," she adds.
Vipin Porwal, founder and consumer expert at Smarty, expects to see key savings opportunities from the major home improvement retailers on plants and gardening supplies, with 20 percent off or more on perennial bulbs, plants, shrubs, trees, lawn seed and fertilizers. "There will also be sale pricing on a variety of the tools needed to do this work," he says. "Bigger-ticket items like patio furniture, grills and lawn equipment will have sale prices that often beat many May and June prices — which means the sooner you purchase these items, the longer you get to use them throughout the year versus waiting for late spring sales, or even clearance much later in the year."
Those looking to redecorate can expect deep discounts on area rugs, window treatments, bedding and other home accents, Porwal adds. "You'll also see the lowest prices of the year from major retailers like Walmart, Target, Kohl's, Macy's and others on cleaning supplies and tools, vacuum cleaners and plastic storage containers."
Earth Day items
Shoppers should expect to find a unique selection of savings on items that help them live more sustainable lives. "These will include coupons and promotions to stock up on green home cleaning products, natural health and beauty products as well as organic foods," Porwal says. "Also look for discounts on reusable items like storage bags and paper substitute cloth products, as well as great rebates on self-powering, rechargeable or solar-powered technology."
Shand notes that with Earth Day falling on April 22, some retailers may lower prices on energy-efficient appliance models. "Normally, we'd suggest waiting until Memorial Day weekend to shop for home appliances," she says. "But Best Buy has held Earth Day sales in the past, and Amazon is also known to discount items in its Warehouse Deals section," which sells used and refurbished products in honor of Earth Day.
Last-minute tax-prep software
If you've already filed your taxes, good for you. If you haven't, you may find some deals on software to help you file by the April 18 deadline. "Tax-prep companies are competing over the stragglers, which equates to deals on tax software and even in-person services," Shand says.
Car maintenance deals
While high gas prices may have you looking for ways to spend less time driving, "April is National Car Care Month, which means it's a great time to show your vehicle some love and care after the long, bitterly cold months of winter," Shand says. Expect to find deals on new tires, auto parts, tune-ups and more.
What to skip in April
Summer clothing
The hint of warmth in the air means you'll start seeing summer clothing like shorts and sandals hitting the shelves. "Ignore summer duds altogether and wait until later in the season to snap up summer fashions," Shand says. "The back-to-school season sales will have the best deals on summer clothing."
Barbecues and grills
A new grill to go with your new patio furniture may be tempting, but this isn't the best time to replace your old one. "If your current grill can last one more season, then wait until Labor Day to replace it," Shand says. "That's when prices will drop to new lows that you just won't see right now, when everyone is thinking of summer cookouts."
Large home appliances
Unless you find a good Earth Day promotion, Porwal says to hold off on larger home purchases such as mattresses and appliances. "It will serve the budget-minded shoppers well to wait until Memorial Day sales," he says.
TVs and electronics
If you didn't take advantage of Super Bowl promotions to pick up a new TV, hold off on getting a new one right now. "You might still see the occasional TV deal but overall, April is far from the best time to find deals on TVs and electronics," Shand says. "Plus, experts have predicted that the chip shortage of 2021 will impact prices and production until at least late 2022." She suggests waiting until Amazon Prime Day for electronics sales.
Take the next step
Our advisors will help to answer your questions — and share knowledge you never knew you needed — to get you to your next goal, and the next.
Get started
Want more? Get financial tips, tools, and more with our monthly newsletter.