What to Know About Maternity Leave While Working From Home
---
Cathie Ericson
Sep 18, 2020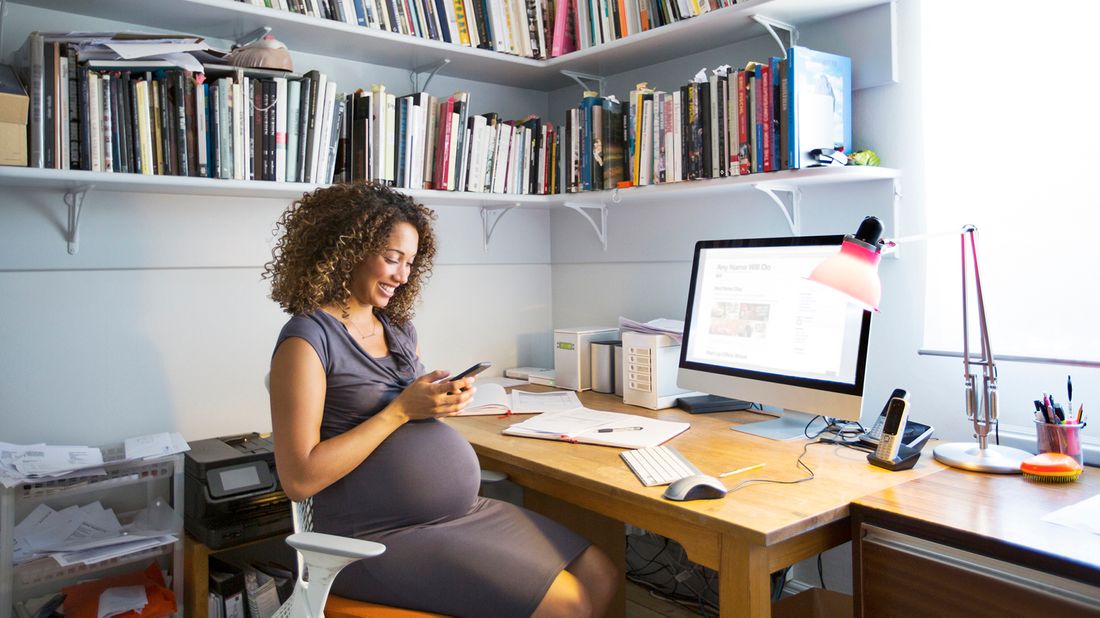 Anyone who has gone on maternity leave before knows that preparation is key for a smooth transition. But the COVID-19 era has pretty much up-ended how the traditional workplace operates. With working from home the norm rather than the exception — and the line between your personal and professional life blurring more than ever — you may be wondering how your maternity leave could be impacted during these unusual times.  
If you're expecting to have a baby soon, here's how you can prepare for maternity leave while working from home.
CHECK YOUR COMPANY'S MATERNITY LEAVE POLICY 
Assuming your employment status hasn't changed, the fact that you're working from home shouldn't impact your maternity leave benefits — but it's always a good idea to make sure you're familiar with your company's existing policy so there are no surprises. Check in with your human resources benefits manager so they can talk through the details, including the length of your maternity leave; how much of your leave is paid or unpaid; whether you're getting full or partial pay; and whether you can tack on additional paid time off.  
EXPLORE YOUR OPTIONS IF YOU DON'T HAVE PAID LEAVE 
If you don't have a formal paid maternity leave policy, talk through with your HR manager whether you can use paid time off and if your benefits include short-term disability insurance, which may help cover a portion of your pay for a brief period. Typically, women can receive six weeks of paid disability leave for deliveries without complications and eight weeks for cesarean sections, explains Vasu Reddy, senior policy counsel for workplace programs at the National Partnership for Women & Families.
Keep in mind that if your company doesn't offer paid maternity leave, you may still be eligible for up to 12 weeks of unpaid leave with your job protected under the federal Family and Medical Leave Act (FMLA), Reddy says. Some states also have maternity protections beyond the FMLA, so it's good to know what your state's rules are. Some state-based paid family or medical leave programs require your employer to allow you to use accrued paid time off if you so choose, Reddy adds. 
You might be wondering if you can benefit from the Families First Coronavirus Response Act (FFCRA), which applies through December 31 for employees of certain companies under 500 people. The law expands paid sick leave and family and medical leave for employees who can't work because they must quarantine due to COVID-19; or who have to care for a child while schools are closed or child care is unavailable due to the pandemic. The FFCRA does not address maternity leave specifically. But if you find yourself in these situations before or after giving birth, it's worth checking in with your HR manager to see if you qualify for some paid leave.
DO A CHECK-IN ON YOUR FINANCIALS 
Particularly if you're expecting a drop in income during your maternity leave, it's important to make sure you're prepared to cover the costs of a new baby. Do you have a baby savings fund, or do you need to start one? How's your emergency savings looking? Is it time to start crossing things off your list of to-do's before baby arrives? If you haven't already, discuss with a financial advisor what adjustments you might have to make to your budget and your financial plan to accommodate new financial goals now that baby is on the way.
MAP OUT A TRANSITION PLAN  
For many workers, it's been harder to find the off switch in a full-time work-from-home situation. Boundaries have become blurred, and that changing dynamic may make you feel as if you need to stay connected while you're out — or even cut short your maternity leave. But starting a transition plan early can help both you and your colleagues be better prepared for your maternity leave.  
In addition to documenting your responsibilities and who will handle what while you're out, you should include a maternity communication plan that explains in what situations it's OK to contact you (like if a new hire is starting or a big client is leaving), and how (email, text or phone). And be clear about what constitutes an emergency.
Your communication plan will be especially important if you're on FMLA leave. "While courts have generally found that employers can occasionally contact employees on leave for tasks like asking about the location of documents, passing on institutional knowledge or providing closure on completed assignments, frequent and lengthy contacts or other requests may constitute interference with their FMLA rights, depending on the court," Reddy says. 
SCHEDULE TIME WITH YOUR MANAGER PRIOR TO YOUR RETURN DATE 
Before you leave, it'll be helpful to decide when you'll check in with your manager in the weeks leading up to your return. Not only will this help you get up to speed on what's been happening while you've been out, you'll also get a chance to discuss whether you need flexibility in your schedule upon your return.
After all, finding child care will be trickier during a pandemic, or you may not be comfortable with any outside child care for a while. If that's the case, you may need to discuss expectations around when you'll be online and reachable, and when you may have to log off. If you're coworkers are back in an office by then, you'll also want to discuss whether you can continue working at home for some or part of the week. The sooner you can confirm the details with your manager the better, because it'll give you and your spouse or partner more time to figure out how to tag-team work and baby responsibilities.
To be used with form MN 992-STD, MN 992-LTD, MN 1096 SGSTD, MN 1096 SGLTD, ICC16.TT.DI.IIB.(0916), ICC16.TT.DI.FIB.(0916), ICC16.TT.DI.CAT.(0916), ICC16.TT.NCDI.(0916), ICC16.TT.GRDI.(0916), ICC16.TT.DI.PDB.(0916), ICC16.TT.DI.PDBO.(0916) or state equivalent. Not all contracts and optional benefits are available in all states. Disability insurance policies contain some features and benefits that may not be available in all states. The ability to perform the substantial and material duties of your occupation is only one of the factors that determine eligibility for disability benefits. These policies also contain exclusions, limitations and reduction-of-benefits provisions. Eligibility for disability income insurance, additional policy benefits, and qualification for benefits, is determined on a case-by-case basis. For costs and complete details of coverage, contact your Northwestern Mutual Financial Representative. Disability insurance policies contain exclusions and limitations that could affect individual coverage. For costs and more complete details, consult a Northwestern Mutual financial representative.       
 
Northwestern Mutual is the marketing name for The Northwestern Mutual Life Insurance Company, Milwaukee, WI (NM) (life insurance, disability insurance, annuities, and life insurance with long-term care benefits) 
90-2716-86 (05/21) 
Take the next step
Our advisors will help to answer your questions — and share knowledge you never knew you needed — to get you to your next goal, and the next.
Get started