What You Can Do If You Have to Postpone Your Summer Wedding
---
Natasha Burton
Jun 11, 2020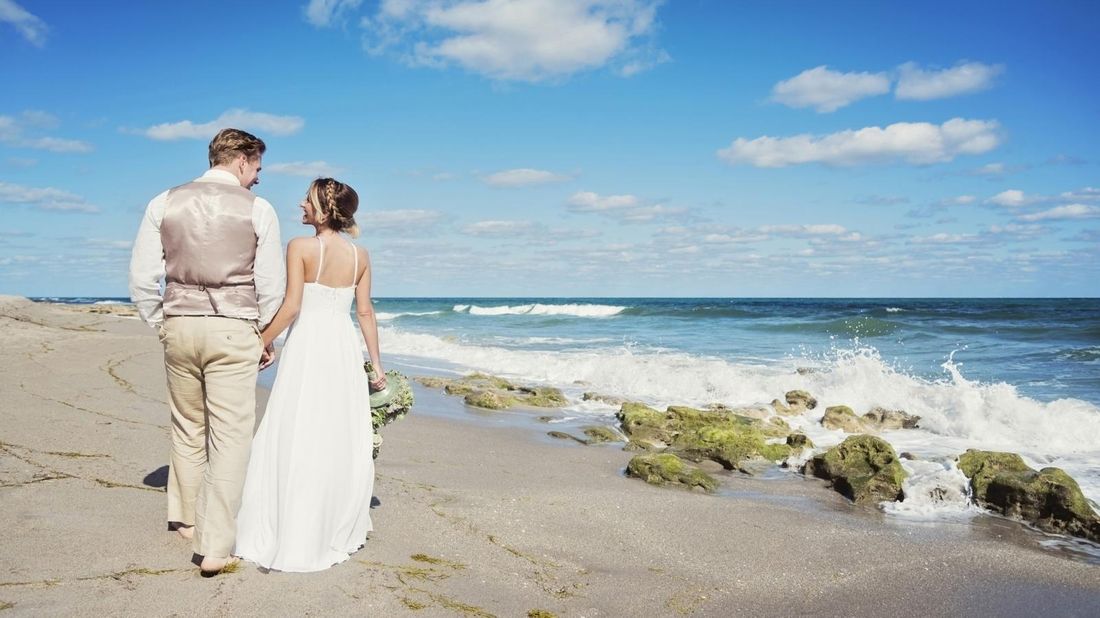 For couples who were expecting to get hitched this summer, it's likely COVID-19 has put those plans on hold. And due to the unprecedented nature of the pandemic, your contracts with vendors and venues probably don't cover this type of situation — even if you purchased wedding insurance.
Although you may not be able to recoup all the money you've spent thus far on your big day, you do have options for making the most of the situation, financially and otherwise. Here's what to know if you have to postpone your summer wedding.
CHECK YOUR LOCAL RESTRICTIONS
Each state — and every city, for that matter — may have different rules regarding holding large gatherings. It's possible that you'll be able to postpone to a later date this year. "Follow your location legislation closely," advises Portland-based wedding photographer Naba Zabih. "You need to make sure that you are doing what is appropriate for your specific situation."
Geoff Sockol, president of Electric Events DC, notes that in some cases you may want to wait before canceling your celebration. "If it is government-mandated, you'll have a better chance of a refund," he says. It's also possible that restrictions in your area may lift, allowing you to choose a later date.
CONNECT WITH EACH OF YOUR VENDORS
The best way to discuss options with your wedding team is to call — or, better yet, set up a video chat with them, says New York City–based wedding photographer Jocelyn Voo, owner of Everly Studios.
"Honesty and over-communication is the best policy in these types of situations," she says. "It's a delicate situation — emotions are running high all around for everyone. Most vendors want to be as sensitive and understanding as possible to their couples' concerns."
Go over your contract with each vendor and ask to move your wedding date without a rebooking fee — they may be willing to waive additional costs.
"While many vendors, unfortunately, have to charge a higher rate for 2021 weekends to avoid losing future income, many are offering to reschedule without any further fees to fall dates in 2020 or to weekdays in 2020 or 2021," Zabih says.
COORDINATE WITH EVERYONE INVOLVED
Before setting a new date, make sure that all of your vendors are available. Some of them may already have bookings for 2021, especially since many other couples are also scrambling to reschedule their celebrations.
"Unfortunately, I have seen some vendors struggle with being unable to accommodate date changes because the couple went ahead with the venue before notifying all their vendors," Zabih says.
You also need to get the details of your date change in writing — with language that accounts for future outbreaks.
"Have an addendum in any new agreements that allows you to change the date again if needed, and what the costs associated with a date change will be," says veteran wedding planner JoAnn Moore. 
ALERT YOUR GUESTS
If you've already sent out save-the-date cards or invitations, let your guests know what you have decided, especially if they need to cancel travel plans.
"Telling your guests that your wedding is cancelled might feel disappointing, but ultimately, your guests will understand that you're putting their safety and health first," says Karen Norian, an editor at Simply Eloped.
She suggests sending a "We're Changing Our Date" card or email that lets everyone know that a new date will be announced once the pandemic subsides.
A somewhat trickier situation to navigate is if you decide to significantly scale down your ceremony to include fewer guests — or none at all. In this case, send out an amended invitation that details your new plan.
"Maybe the wedding will include the 25 percent of guests that can fit in the venue and the rest will have to virtually watch the wedding from their homes," says Brian Worley, creative director and owner of B. Worley Productions. "Guests have to be flexible and understand the new normal may require that not all guests will be able to attend."
SCALE DOWN YOUR CELEBRATION
You may not be able to change your date without a significant financial loss, or you simply decide that a smaller event makes sense for everyone's safety. Instead of a larger celebration, you could host a smaller wedding with close family and friends while following social distancing guidelines.
"Use the non-refundable portion to enhance the overall experience," says wedding planner and designer Rayna Wallen. "Change the menu from chicken and fish to filet mignon and lobster and from beer and wine to an open bar. Instead of simple florals for 20 tables, have your florist create a truly memorable bouquet and tablescapes." 
USE YOUR DEPOSITS AS CREDIT FOR OTHER SERVICES
Be open to other outside-the-box alternatives to get compensation for lost funds, suggests Emilie Dulles, a wedding consultant and owner of a printing company.
"Perhaps the florist will deliver an arrangement monthly until the deposit is covered," she suggests. "Maybe the photographer will agree to taking your holiday card photos this year instead of shooting your wedding."
Being kind and creative will go a long way toward coming to an agreement of services that both parties can feel good about. And what could more in keeping with the spirit of the occasion?
Take the next step
Our advisors will help to answer your questions — and share knowledge you never knew you needed — to get you to your next goal, and the next.
Get started
Want more? Get financial tips, tools, and more with our monthly newsletter.