When the Pandemic Hit, Nema Semnani Embraced Imperfection and His Business Thrived
---
Nema Semnani as told to Carl Engelking
Aug 26, 2020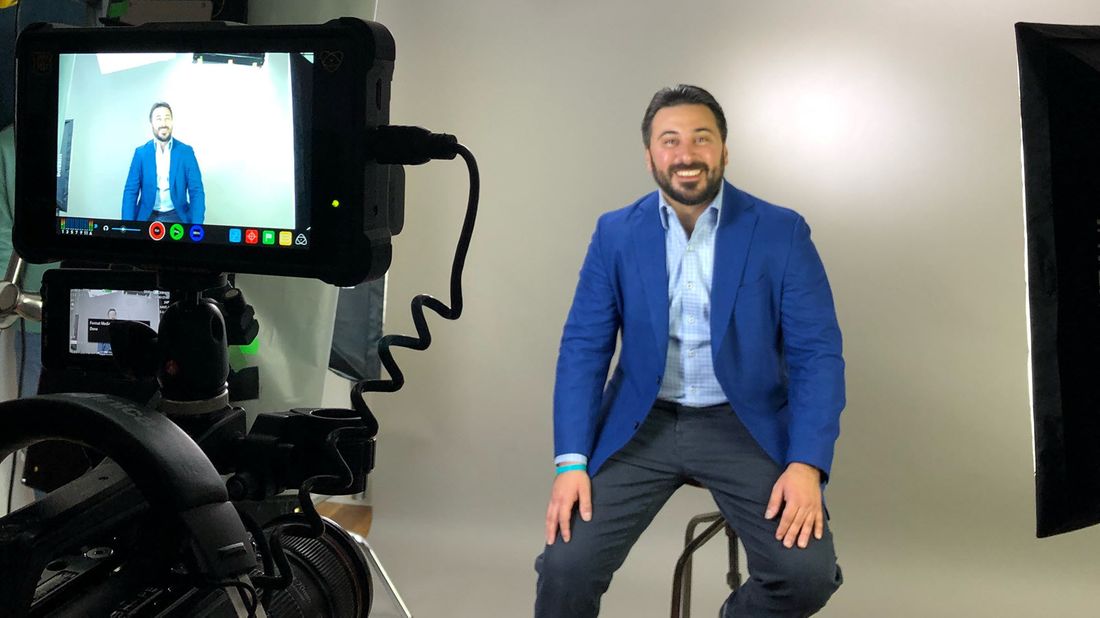 Small business owners have seen their companies change overnight due to the coronavirus. In our #openforbusiness series, we're highlighting Northwestern Mutual clients who have been forced to get creative in order to adapt to these unprecedented times and keep their businesses running. We hope you'll get inspiration from their stories and help support them whenever possible.
Business: Precision Sales and Consulting
Owner: Nema Semnani
Location: Fairfax, Virginia
Phone: 202-577-4387
Website:  www.precision.sandler.com
I'm the president of Precision Sales and Consulting, a Sandler Training company, here in Virginia. We focus on sales training, leadership training and process development.
I've been doing this for a while, and it was turning out to be a big year for me — 2019 was an incredibly successful year, but by February I could already see I was on pace for an even better year in 2020.
Then in March, I think it was Friday the 13th, the state of Virginia went into lockdown. We were already beginning to take precautions and move some things online, but that Friday is when everything stopped on a dime. It was surreal.
Here's what we did to move forward when the world around us stopped.
WE CEMENTED PLANS TO GO VIRTUAL
If you think about a business model ripe to be disrupted by a pandemic, it's our business. Basically, 100 percent of what we do is in-person, all-day sessions with anywhere from 15 to 100 people in a room. To be honest, I had doubts myself. But was open to embracing imperfection.
The Monday following the shutdown, I announced to all my clients that we were fully going virtual. Yes, it was brand-new world, but I had already invested time and technology to shift a portion of my business online. We always offered hybrid training options, but the bulk of what we did was in person. I always thought the magic happened in person.
Now, months into this, I've seen incredible levels of engagement and creativity in the virtual world. I think it's because we've had to experiment and try new things to maintain that same face-to-face energy and excitement. We found new ways to gamify training, new ways to keep people excited. We've creatively built on virtual delivery, and we've really stretched. Now, this something I'll offer permanently. 
WE DONATED OUR TIME
I'll be honest, I let a lot of doubt creep in during those first days during the lockdowns. But at a certain point you've got to accept the situation: OK, the world is disrupted, what can we do about it? We started by thinking about ways to help others first and foremost.
So, I and three other Sandler colleagues, Matt Nettleton, Robin Green and Sean Coyle, in the region got in touch and teamed up to give something back to our clients. Why don't we do more? Everyone is trying to do less right now, so we decided to do more. That led to a series called "Start Your Days with Sandler."
Every morning from 8 to 9 am, we started delivering free sales and management training to our clients virtually. We didn't have a specific plan, we just dove in. We took turns hosting the sessions, and they were well received. When it was all said and done, we had some 6,500 people throughout the Northeast join us for those. It was great! We really enjoyed donating our time and helping our clients.
WE EMBRACED IMPERFECTION
We didn't exactly go into this digital transition with a full plan. We just decided to start building something, to try things and experiment. "Start Your Days with Sandler" was in that spirit. We didn't know what we were doing until we started doing it. We accepted the fact that conditions would never be perfect. We embraced it. We decided to just learn as we go.
I don't know if it's luck, skill or both – but embracing imperfection was key to being proactive and adapting to this curveball we were given. It's a chaotic time, and if you worry about process, you'll end up with analysis paralysis.
WE COULDN'T MAKE EXCUSES
We all have running to-do lists, but it's easy to let them slip in normal times. We get busy. But the pandemic, personally, robbed use of excuses. There was no excuse not to give something a try. With everyone staying home, I had more time on my hands to tackle things I've always wanted to do.
So, I started another video series called "Sandler Worldwide Shoutouts". It's sort of a short, slightly more serious version of "Between Two Ferns". In each episode, I have another Sandler trainer from around the world on the show and we have some fun. It was something I always wanted to try, but I always found a reason not to. I had no excuse now. 
I don't have a massive following, but I've done over 20 of these now and they've gotten some traction. The world is hard, things aren't easy now, but we still need to give ourselves room for levity these days. It's OK to laugh.
NEW OPPORTUNITIES AROSE
Counter to what even I thought at the time, all this disruption created a larger need for well positioned companies. Companies are having to adapt on the fly and learn to grow, sell and manage in a virtual world that is more than likely going to be a new normal for years to come. While I know it'll be difficult if this continues indefinitely (things still aren't ideal), but there are going to be lots of opportunities that organically develop out of this.
Do you know a Northwestern Mutual client who owns a small business that has had to pivot due to the coronavirus? Click here to share the story with our editorial team.
Take the next step
Our advisors will help to answer your questions — and share knowledge you never knew you needed — to get you to your next goal, and the next.
Get started
Want more? Get financial tips, tools, and more with our monthly newsletter.