Why This Advisor Thinks It's So Important for Families to Talk About Finances
---
Jennifer Liu
May 29, 2019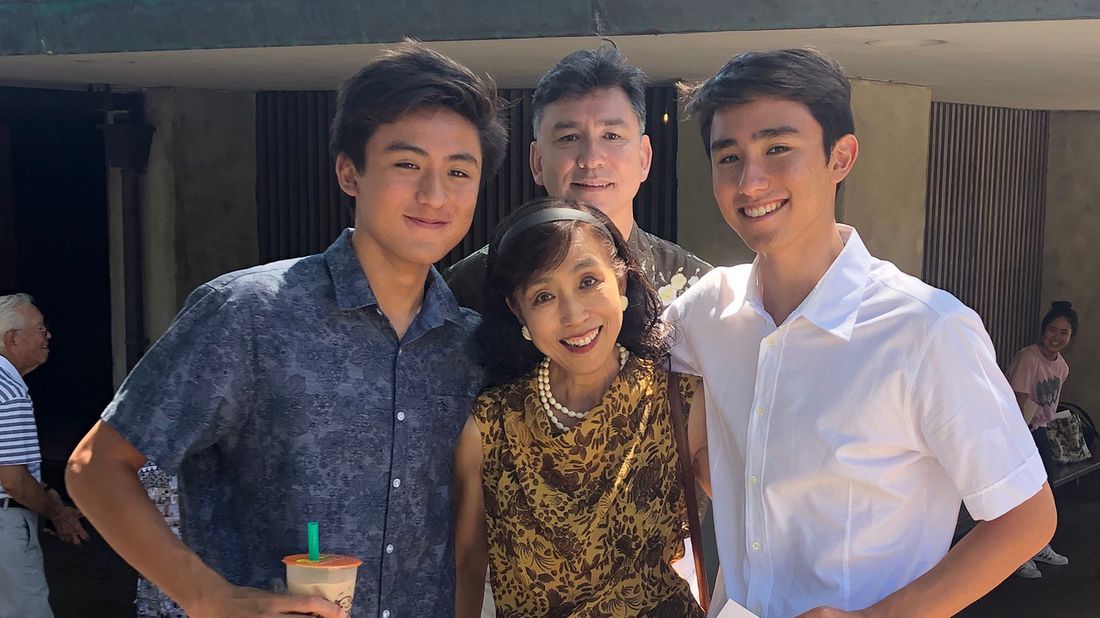 Get to know the people behind the financial advice in our Planner Profiles series, where you'll get the inside scoop on their best money tips. 
Family has been behind a lot of the big decisions in Akiko Sakamoto's life.  
It's what led her and her husband, Gen, who both grew up in Japan, to move to Hawaii after his parents retired there. The couple soon left for grad school and career callings in New York — but returned to the Pacific a few years later after having twin boys, Tyler and Ray, so they could be closer to family. 
Today, Sakamoto is a financial advisor for Northwestern Mutual in Honolulu, where family is still a running theme in her work. She tries to impart the importance of financial planning to her clients, but also encourages them to pass those lessons along to the next generation — something she practices with her own sons. Here, Sakamoto describes how she teaches her kids about money, and why it's so important for finances to be a family affair.  
Who first taught you about money? 
In my case, I remember my parents were more focused on teaching the value of hard work. Beyond working hard to generate income, managing money wasn't something we talked about. I basically learned money management from college, earning my MBA and then working in financial services. 
Hard work is one of the more important values I want to pass on to my sons, too. But it's hard to tell someone verbally that hard work is important. I want them to see how I work, how I manage time on a daily basis, how much commitment I make to my work. They see all those things and realize that it's really important to manage their time balancing school, being on the swim team and other activities. They're hardworking students and really understand the value of putting in the effort.  
What do you teach your sons about finances? 
Conceptually, the difference between what you want and what you need. Once they know how to prioritize needs over wants, learning about money management and how to budget is the next step. It's on my agenda to teach them this over the next year before they go to college. 
Recently, one of my sons had a great economics project where students had to come up with a 10-year projection of their financial journey after high school. He had to research where he wants to go to college and calculate the cost of tuition, living expenses, and how much would be covered by parents versus student loans versus an on-campus job and other earnings. Then, he had to consider his job and salary after college, and how much of his income would go to paying off student loans and living on his own. I was able to use some of my planning resources to help him chart it out. He was so surprised to see how much everything would cost, but it was a great experience we were able to learn from together. 
You grew up in Japan and have a lot of Japanese-speaking clients. What's unique about working within this community? 
About half of my clients are Japanese-speaking, and they have a totally different understanding of personal finance because of our background. In Japan, we have a pretty good system in terms of health care and insurance that's subsidized by the government. And it used to be that if you worked for a company long enough, they'd contribute generously to your retirement.  
It's great to see the parents realize that it makes so much of a difference if they start their kids early. 
So even though many of my clients who came from Japan and have lived here 20 or 30 years, and have had children and built businesses, many don't have a clue about financial planning. My goal is to help them realize that they really have to take the initiative to plan for themselves and their families. 
What's the most satisfying moment you've had as a financial advisor? 
Most of my clients are around my age or a little older. When they bring in their adult children and want me to talk to them about the importance of financial planning, it's so rewarding. It's great to see the parents realize that it makes so much of a difference if they start their kids early. 
Why do you think it's so important for families to talk about finances? 
I'm an only child, so I didn't really have to worry about how to split my parents' assets among siblings down the road. But I've seen so many issues among children when something happens to the parents, and that's really heartbreaking. So when I work with clients who have families, I remind them to plan not only to leave something behind for their children, but also to lay out how they want to leave those things behind. It's important that the parents' intentions are reflected in their planning. 
How do you like to give back? 
I'm the international service chair of the Ala Moana Rotary Club of Honolulu. We fundraise and contribute to projects in communities abroad. We've recently participated in projects to provide medical equipment for hospitals in Thailand, school renovations in Bolivia, and improved teacher training in Myanmar. The organization was a great way for me to open the door to different service projects to really make a difference. I'm especially passionate about children's issues.  
How do you spend life living? 
Travel. That's one of the major things I'd like to budget more for. I'd like to go back to Italy or return to Singapore. I've never been to Greece or Spain, so those two countries are on my list.  
What's your biggest personal financial goal? 
Right now it's really my children's education. It's a big step to send your kids to college, especially at the same time. Both of them are looking at schools on the East Coast, so our next year will be preparing for that.
Take the next step
Our advisors will help to answer your questions — and share knowledge you never knew you needed — to get you to your next goal, and the next.
Get started
Want more? Get financial tips, tools, and more with our monthly newsletter.