10 Smart Splurges to Help New Parents Save Time, Money and Sanity
---
Natasha Burton
May 10, 2018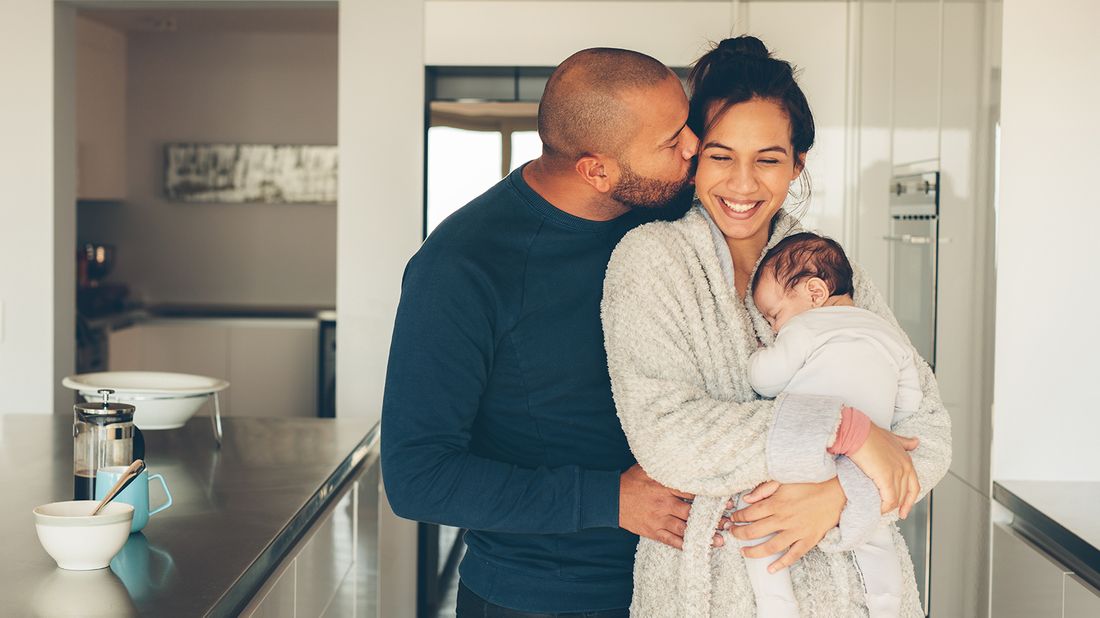 When you're preparing for a baby's arrival, you're often focused on all the things you need to do to get ready — assembling the crib, laundering tiny clothes, stocking up on diapers. But, typically, soon-to-be moms and dads don't spend all that much time (or money) on themselves.
While, yes, most of your resources will go toward baby, budgeting for this new chapter in your life can help you save time, hassle and your sanity.
Here are 10 splurge-worthy items to consider, from one new parent to another.
A MEAL DELIVERY SERVICE

Quality meals can take time to prepare and, when time and sleep are limited, you need consistent, healthful and filling food. While there are a number of meal services to choose from, Daily Harvest stands out because it delivers frozen, superfood-packed smoothies right to your door. Just blend and enjoy — even while feeding or rocking your newborn.

Once your baby is a little older and starting solids, also look into Raised Real, which delivers frozen pre-portioned, pre-chopped packets of organic, plant-based meals. For those who want to make their own purees, this service is gold.

DISPOSABLE PRODUCTS

Don't be a hero and try to wash dishes. At least for the first few weeks (months?), give yourself permission to use disposable plates, cups, napkins, silverware — you name it. The environment will forgive you.

HIRED HELP

If you're having sleep or feeding issues, look into hiring a sleep consultant, night nurse or lactation consultant. Turning to a pro for assistance isn't something to be ashamed of — it can help you feel more confident that you and your baby are on the right track. And if you don't have family or friends who can help, find a parents' helper who can watch baby while you shower or nap, or pay someone to clean your house. If there was ever a time to hire help, it's now.

DOGGY DAY CARE

You may find that your once-beloved pooch is now second banana — and probably not too happy about it. Send your dog to a local daycare where he or she can play with friends, or get a walker. You'll feel less guilty, and Fido will burn off some energy.

SELF CARE

The transition from person to parent can be tough. The lack of sleep, free time and autonomy can send even the most put-together person into an emotional tailspin. Take care of yourself by going to therapy, getting a massage, taking yoga classes — whatever will help you feel mentally and physically at peace.

A COMFORTABLE ROCKING CHAIR

Yes, upholstered rocking chairs take up a lot of space. Yes, they are expensive. And, yes, you need one. If your baby is like most, he or she is going to want to sleep on you for a large portion of the day. Make sure you have a cozy place where you can, ideally, nap, too. A rocker that also reclines does the trick.

AMAZON PRIME

This is the best $119 you will ever spend. When you notice that you're running low on diapers, don't schlep baby (and your unshowered self) to the store — just hit one-click.

COSMETIC TOUCHUPS

For new moms, it can take a while to feel like yourself again. While it may seem frivolous, investing in a good concealer (Amazing Concealer lives up to its name) and compression leggings (try Belly Bandit's) can make you feel just a little more like yourself again.

A QUALITY BAG

Every time you leave the house, you'll take all the essentials with you. However, don't waste your money on a "diaper bag," which can run you well over $100. When your kid is 2, you'll cram it in the back of your closet.

Instead, invest in a quality tote bag you love and pair it with an insert that can hold your baby-related essentials. Some chic options to consider are Madewell's Drawstring Tote or a hiking backpack.
Take the next step
Our advisors will help to answer your questions — and share knowledge you never knew you needed — to get you to your next goal, and the next.
Get started
Want more? Get financial tips, tools, and more with our monthly newsletter.