4 Family-Friendly Spots For Last-Minute Summer Vacations
---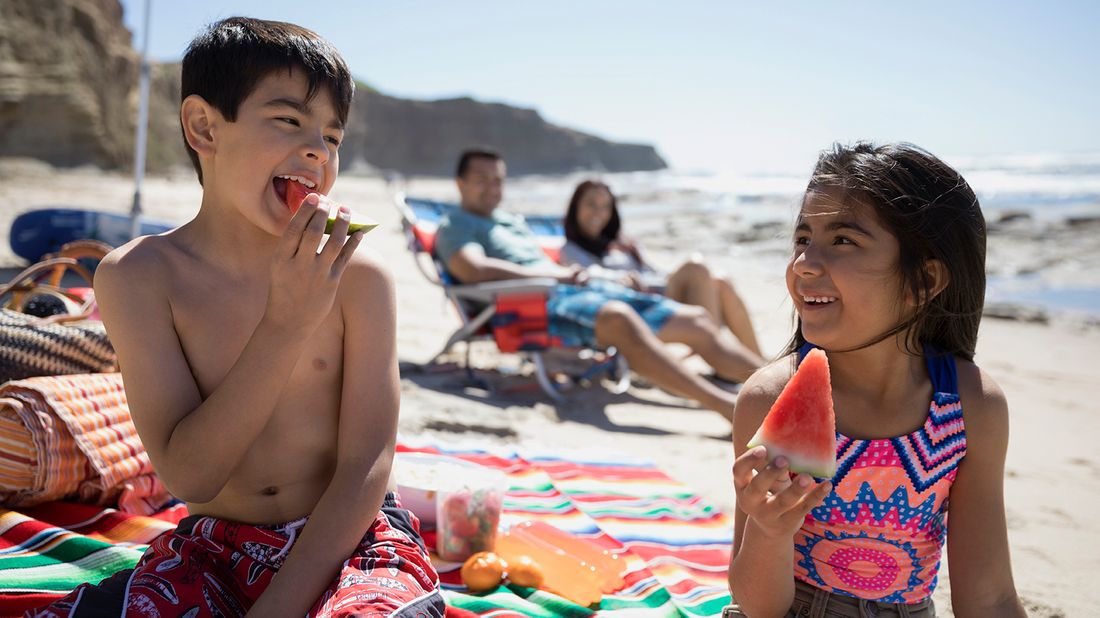 Life with kids is constantly on-the-go, and sometimes things just don't get done — even things we really, really want to do, like plan a much-needed family vacation. If that sounds familiar, don't despair. Certain destinations offer loads of family-enticing activities and also happen to be conducive to planning on the fly. Here are four great last-minute summer vacations to consider. 
Las Vegas, Nevada
This vibrant city offers a whole lot more than bachelorette parties and slot machines. In addition to a slew of kid-friendly attractions, Las Vegas is a gateway to spectacular natural beauty and outdoor activities. Flight deals can almost always be found and due to the sheer volume of hotels, rooms are available at any budget, even last-minute.  
It's impossible to visit Las Vegas without experiencing the famed Strip. A great place to start is at the High Roller Observation Wheel, the highest one in the world, offering spectacular views of the city (go at night if the kiddos are old enough). Next, pop into the Bellagio Hotel, with its impressive Conservatory and Botanical Garden and fountain shows that take place several times an hour beginning at 3 p.m. — both are free. Shows in Vegas abound and Cirque Du Soleil is always a terrific option. For a lesser-known, equally fantastic experience, Jabbawockeez is a dance-centric performance with shows at 7 and 9:30 p.m. Thursday through the weekend. 
Beyond the city limits are endless hiking trails around Red Rock Canyon, a 30-minute drive from Las Vegas. The Lost Creek hike is designed with little feet in mind (yes, even active toddlers). For more ambitious hikers, the entire six-mile Calico Hills trail embodies the heart of this natural conservation area. Less than an hour away due east is Lake Mead, where your family can enjoy boating, water skiing, hiking, biking, camping and views of the Hoover Dam. 
San Juan, Puerto Rico
As much as Miami has to offer, another super destination for families is Puerto Rico. San Juan has something for everyone: the history buff, the beach bum, the adventurist. Flights are typically less expensive than flying across the U.S.  
Santurce, the arts district, offers more affordable accommodations and is just enough off the beaten path to feel less touristy. Beaches in this charming neighborhood, like Condado, are breathtaking and won't be as crowded.  
Get to know Old San Juan by wandering its colorful streets. While eateries along Fortaleza Street (Restaurant Row) have earned their place, don't be afraid to venture off to gems like Café Manolín for divine tostones (fried plantains) and other local delicacies. Two wonderful historic sites include Castillo San Felipe del Morro, a 250-year-old fortress with a rich history, and Casa Blanca, the 14th century home of explorer Ponce de León. 
Just outside of the city is the El Yunique National Forest, Puerto Rico's only rainforest, where one can hike along waterfalls and experience the diverse animal and plant wildlife. Just down the road, Carabali Rainforest Adventure Park offers ATV rides, horseback riding, hayrides and go-karts.  
If you have the time, visit Vieques and its magical Puerto Mosquito, one of the world's five bioluminescent bays. Flights from the San Juan International Airport are pricey, so consider a $4 per person ferry ride from Ceiba. Bringing a car will require an advanced reservation (rent one there instead).  
Nashville, Tennessee
This sophisticated, pretty city may surprise newcomers with its offerings for families with children. Nashville boasts an impressive food scene, second only to its music, along with sprawling green spaces and fabulous museums. The best part? Flights are reasonable and renting an apartment in East Nashville is the secret to spending less on accommodations.  
To get a lay of the land, join an Old Town Trolley Tour first thing in the morning and spend the day hopping on and off to hit the hotspots at a pace that suits your family. If seeing Dolly Parton's costumes sounds exciting, a visit to the Country Music Hall of Fame is in order. If live honky tonk is more up your alley, head three blocks over to Robert's Western World, which has performances all day (all ages welcome until 6 p.m.). If you hop off at the Gulch stop, spend an hour or two at the Frist Art Museum. Purchasing tickets online is the way to snag discounts for tours and museums. Grab lunch supplies at the giant Farmer's Market and picnic in nearby Victory Park. 
On the outskirts of downtown Nashville is the Adventure Science Center, which is best suited to tweens and under. Right up the hill is Fort Negley, steeped in Civil War history and is free to the public.  
Return to home base in East Nashville and have a lovely dinner at Butcher & The Bee or fried avocado tacos at Mas Tacos Por Favor. If your kids are old enough, zip around East Nashville's Shelby Park on electric scooters. 
San Diego, California
The heart of San Diego may be its beaches, but one doesn't have to surf to really get to know this dynamic city. Non-stop flights are available throughout the summer and are surprisingly inexpensive compared to other West Coast destinations. San Diego isn't especially public transportation friendly, but there are plenty of rental cars deals available online. 
Renting an apartment in one of the hip communities surrounding Balboa Park offers more options. Consider North Park, where you'll enjoy scrumptious fish tacos at City Tacos and a flight of homemade ice cream at Hammond's. 
Balboa Park, the heart of downtown, offers 16 museums, the famed San Diego Zoo, awesome playgrounds and endless hiking trails through the Florida Canyon. There are a number of museums that are extremely well-suited to even young kiddos, including San Diego Model Railroad Museum and the Museum of Man. Check out the various packages before arriving to save money, although you don't have to commit to anything until you are ready to go.  
Hiking in Torrey Pines offers some of the most spectacular views of the coastline, and Mission Beach is a great spot for the full family-welcoming beach and boardwalk experience, complete with the sweet Belmont Park amusement park. 
Take the next step
Our advisors will help to answer your questions — and share knowledge you never knew you needed — to get you to your next goal, and the next.
Get started
Want more? Get financial tips, tools, and more with our monthly newsletter.