4 Mini Splurges That Help Me Fight Pandemic Burnout
---
Chaunie Brusie
Apr 20, 2021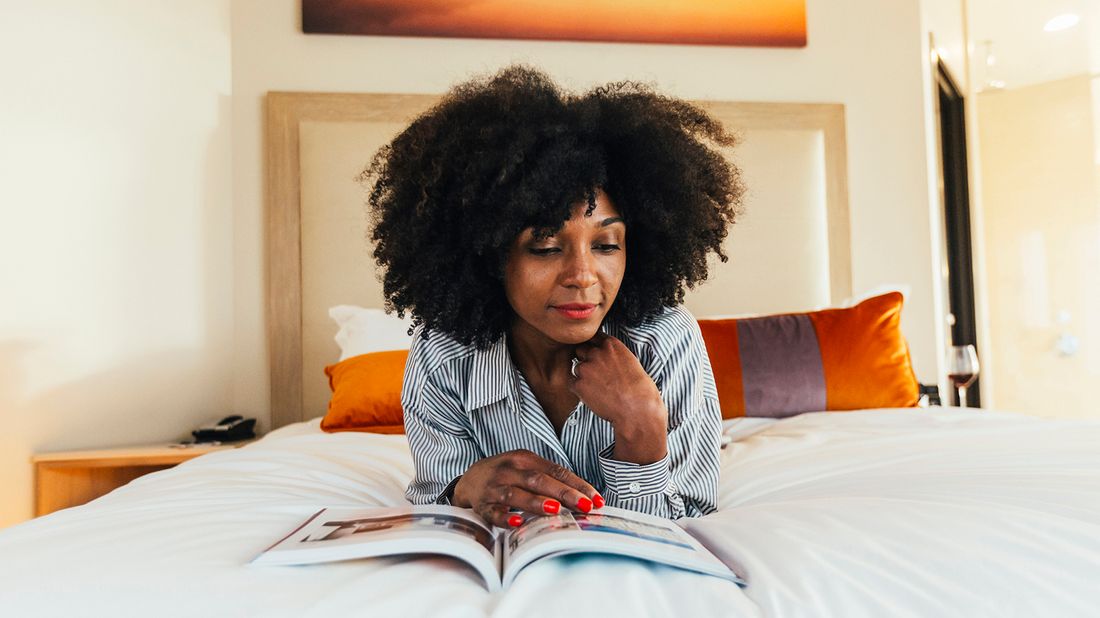 Like many parents during the pandemic, I juggled working at home with figuring out the kids' remote learning with orchestrating a new routine for my family — all while trying to keep a positive attitude. 
But sometime last June, my enthusiasm waned and I found myself feeling like I was moving in slow motion. I was exhausted, uninspired and went to bed dreading the next day. I couldn't get motivated, and work that I could normally speed through was suddenly taking hours. 
Quarantine burnout had finally gotten to me — and I wasn't alone. One study found that 88 percent of moms reported feeling more stressed than before the pandemic. And more than 70 percent of the nearly 1,800 moms surveyed by Leslie Forde, founder of the Mom's Hierarchy of Needs online community, reported they were doing more housework and childcare than ever. 
If there's one silver lining to all this, it's that I discovered I needed to be proactive in preventing burnout — and that it was OK to splurge occasionally to do so. Here's what I found worth working into my budget in order to combat pandemic burnout. 
REGULAR NIGHTS AWAY AT A HOTEL 
Tara Jefferson, a self-care coach and founder of The Self Care Suite, explains that most of us are "severely underestimating" the amount of energy it takes to get through a pandemic — and thus, underestimating the amount of rest we need to handle it.  

"Chances are, if you are feeling burnt out, rest has fallen all the way to the bottom of the list," Jefferson notes. "That's understandable, but it's not sustainable. We can't do more with less, which is what the pandemic is asking of us. So we have to do less to make sure we have time for resting."  

That might be why moms have been booking hotel rooms during the pandemic to steal quiet time and get work done, and I'm no different — dreaming of booking a night to myself when it was safe to do so got me through last spring. When I finally got a room, it was all I had imagined. 

It was a working retreat, but it restored me — so much so that my hotel room habit has become my lifeline. I booked another night a few months later to get caught up on work and yet another toward the end of the year to finish up holiday tasks and rest before the season's frenzy. 

So far, this is helping both practically and emotionally — it gives me something to look forward to and it helps me tackle a marathon work session. A night alone plus room service equals heaven for a mom in quarantine, so I'm willing to spend $200 or more.  

ONLINE THERAPY 
This is a new thing for me, and I'm still trying to figure out how the heck to get it done with a toddler (during one of my sessions, the dog knocked her down, then she pooped, then she needed a snack), but desperate times call for desperate measures. Online therapy is partially covered by our insurance, so that helps, but it's still a (necessary) indulgence of both time and money. After insurance, I pay about $70 per session.   

PAYING MY PRETEENS TO BABYSIT 
My only real forms of childcare are my preteen daughters, 12 and 10, and although they are always happy to pitch in, their virtual school load is heavy. Plus, I don't want them to feel taken advantage of (insert flashback to my childhood spent babysitting my cousins for no pay).  

But when I really need something — whether it's because I'm on a work call or just want to use the bathroom alone — I pay them handsomely to watch their baby sister. It's worth paying them (on average, $10 an hour) rather than trying to bring a sitter into our home right now.   

ANYTHING THAT MAKES EXERCISE EASIER 
Before the COVID-19 shutdown, my routine was dropping the kids off at school, then taking a group workout class at the gym, baby in tow. It was the perfect way to start my day and I was enjoying gaining some strength back postpartum.  

When my gym shut down, I went a solid four months without exercising at all, then finally bought a jogging stroller ($100) to take runs with my daughter and downloaded a workout app so I could exercise with the kids at home.  

But when my gym re-opened with safety protocols, I cautiously decided to go back to my favorite workout class, heavy lifting mixed with HIIT, once or twice a week. Instead of signing up for a full membership, since I'm not sure I want to risk being there every day, I pay the higher drop-in rate, which is $15 per class. Exercising outside of my home is something that I loved pre-pandemic and I feel a dramatic difference in my mental health when I go.  

Whether your splurges are large or small, it's the strategy behind them — investing in tools to improve our lives in tangible ways — that makes them essential. 
Take the next step
Our advisors will help to answer your questions — and share knowledge you never knew you needed — to get you to your next goal, and the next.
Get started