What You Need to Know About Using an Online Therapist
---
Marianne Hayes
Apr 28, 2020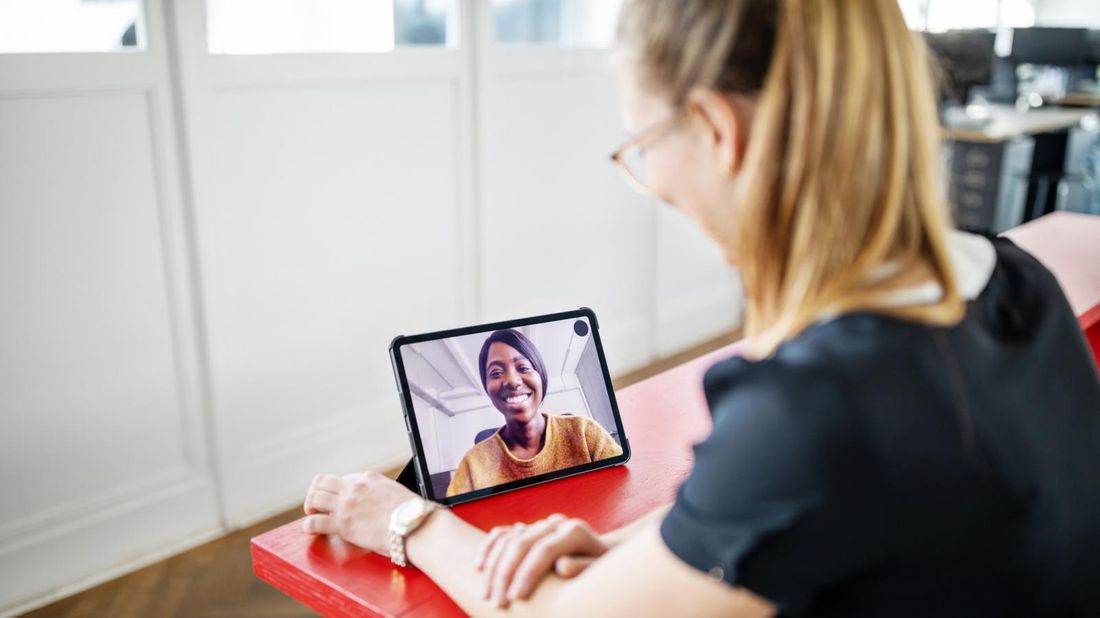 When my state's stay-at-home order went into effect, I knew going to a therapy session to help ease the anxiety I was feeling about the coronavirus pandemic wasn't an option. But then my therapist suggested the next best thing: a video chat. It was new for me, and the first few minutes felt a bit odd, but we soon hit our stride as if we were sitting face-to-face in her office.
I know I'm not the only one feeling stressed and anxious right now. Close to one in five Americans surveyed by Pew Research Center reported having a physical reaction when thinking about the outbreak, and say they are experiencing nervousness or anxiety most or all of the time.
Using an online therapist can be a salve during these uncertain times — especially given its convenience and immediacy. If you're considering giving it a try, read on for what to know about online therapy.
REMOTE THERAPY IS NOTHING NEW  
Remote psychotherapy sessions actually aren't as novel as you may think. Therapists have been connecting with patients over the phone since at least the 1960s, and by the late '80s and early '90s, telepsychiatry evolved right along with the internet. Today, a wide range of online therapy platforms such as Talkspace, BetterHelp and LARKR deliver secure on-demand mental health services from accredited professionals to anyone who has a smartphone.
One 2018 study published in the Journal of Anxiety Disorders found online cognitive behavioral therapy to be just as effective as face-to-face intervention when it comes to treating major depression and anxiety. Having participated in both in-person and remote therapy sessions, I do think they feel different. While I personally prefer the dynamic of being with a therapist in person, our video sessions on my iPhone are still effective in helping me feel better.
DEMAND IS HIGHER THAN EVER
Beyond the real physical danger COVID-19 presents, it is also sparking a whole new set of mental health challenges. Roni Frank, co-founder and head of clinical services for Talkspace, says health concerns and economic uncertainty are top of mind for most patients. The platform has also seen a 65 percent jump in subscribers since the coronavirus crisis began.
"The biggest topic our therapists are seeing is loneliness, especially for Americans who live alone," Frank says. "We're also seeing a lot of couples who already had a strained relationship and are now experiencing even more tension and friction."
Frank says the pandemic is only exacerbating mental health conditions that were already present before this all started. "This really is an unprecedented mental health emergency," she says. "But our therapists will tell you that people tend to open up very quickly because they feel more comfortable when compared to face-to-face sessions. When you're in your pajamas on your own couch, you feel safer sharing your deepest, darkest feelings."
The American Psychological Association (APA) echoes this sentiment, especially for young adults who use technology more often. Apps like Talkspace allow users to connect with a licensed therapist via chat if they prefer, including 24/7 text messaging support.
WHAT TO LOOK FOR IN AN ONLINE THERAPIST
When you are searching for the right online therapist, do the same research you would for an in-person provider. Look for someone who's licensed, has positive reviews, and practices research-backed approaches. Apps stand out for their convenience, and most have online questionnaires that will match you with a therapist.
Payment plans differ and though many are set up to accept insurance, not all are. But keep in mind that many therapists in private practice are also providing teletherapy services during this time so a broader search could be worth exploring. And, if you choose to continue with traditional in-office therapy after the pandemic passes, you will have already established a relationship.
As for pricing, it really all depends on the provider, where you live and whether or your insurance is accepted. My therapist takes my insurance, and I pay the same co-pay amount whether we're doing a video chat or face-to-face session. Some therapists may choose to reduce their fee for remote appointments, so it's certainly worth asking. Generally speaking, face-to-face therapy costs anywhere from $65 per hour to upward of $250, according to GoodTherapy.
Teletherapy platforms have their own pricing rules. Talkspace, for example, partners with some employee assistance programs and behavioral health benefit plans to provide online therapy for eligible employees. Otherwise, members pay a monthly subscription fee. The package you choose determines the cost. Unlimited messaging therapy, which includes text, video and audio messaging, costs $260 per month, but jumps to $316 if you add in one monthly live session (prices drop if you choose to pay every quarter or twice a year). BetterHelp is structured in a similar way, offering a variety of approaches and charging anywhere from $40 to $70 per week.
It's important to be thorough and recognize that it might take some time for you to find an online therapist you really hit it off with. Most professionals are open to doing a preliminary phone consultation before a formal session so that you can get a feel for whether or not it's a good fit.
SOLO SELF-CARE IS STILL IMPORTANT
Working with an online therapist is just one part of your overall mental health care. Practicing healthy habits are especially important for all of us as we cope with the coronavirus. The Centers for Disease Control and Prevention recommends limiting your news intake, which includes social media, and taking time to unwind each day with activities you enjoy, especially for those who are self-quarantining.
Taking care of yourself physically is another key pillar of mental health, which is why the World Health Organization suggests staying active, eating healthy foods and getting regular sleep and rest while sheltering at home. Staying connected with friends and family can also help stave off loneliness and make the days a little easier.
"Remember that we cannot control this situation or this devastating pandemic," Frank says. "But we can control how we respond to it."
Take the next step
Our advisors will help to answer your questions — and share knowledge you never knew you needed — to get you to your next goal, and the next.
Get started
Want more? Get financial tips, tools, and more with our monthly newsletter.