5 Cities to Visit Before the Kids Turn 5
---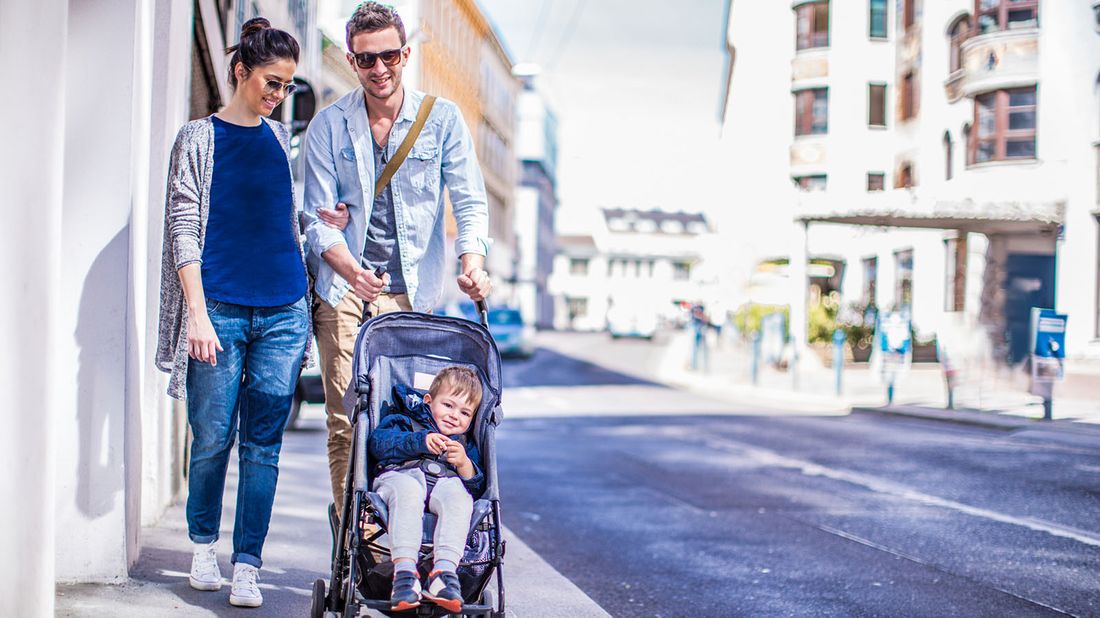 Before I had kids, traveling to a new city meant finding which shows were in town and where the hottest bars were. Now that I have an 8-month-old and a 4-year-old, travel is still one of my top priorities — and while I've had to rethink some of my go-to activities, I've found that I don't have to compromise on destinations. 
Beach or camping trips may seem like the easiest option, but cities can be just as enjoyable with young kids. After all, babies and toddlers are portable and still love spending time with mom, dad and the grandparents. Most cities are very walkable, meaning you don't have to worry about packing everyone into a car each time you want to go somewhere. And, there are countless activities both kids — and adults — will enjoy. (Because let's face it, you'll remember this trip more than they will.) 
Now that I've taken my children to quite a few cities, I know that exploring a new urban jungle with kids in tow can be fun for everyone. If you're ready for memorable family travel, there are the best cities to visit before the kids turn 5.  
Chicago
I spent my whole life flying into Chicago's airport and promptly leaving to visit family elsewhere in Illinois. On one of those trips my husband pointed out that we were missing an easy opportunity to explore one of the greatest cities in the country. So, we flew out two nights early and stayed downtown with our then 2-year-old.  
Through a lucky accident we ended up staying directly across from Maggie Daley Park, a ribbon of green space wedged between Chicago's skyscrapers and the shores of Lake Michigan. The highlight was the park's three-acre play garden, which captures the imaginations of children and parents. For cooler days, Chicago brims with family-friendly indoor activities, including Shedd Aquarium ($39.95 for adults; $29.95 for kids 3 to 11; free for 2 and under) and the Chicago Children's Museum, located on the iconic Navy Pier ($14.95 per person; free for under 1's).  
During nap time, stroll with sleeping kiddos through the Art Institute of Chicago ($25 for adults; kids are free) or take a river cruise and architecture tour aboard Chicago's Leading Lady ($47 for daytime tours). And if you're traveling with a larger group and can get away for an evening, connect with Chicago's seedier side by taking a Prohibition Tour ($80) and sipping cocktails at historic Chicago speakeasies.  
Washington, D.C.  
The nation's capital is usually mentioned as a destination for older kids who can appreciate its deep history. However, the city is also perfect for the smallest travelers. Because most attractions are located near the National Mall, you can plan on walking, taking the stress of public transportation or ride-shares out of the equation.  
What to do with your future president? The Smithsonian offers multiple options for visitors who are bringing little ones. The Museum of American History is a favorite for young families with Wegmans Wonderplace, an area designed specifically for kids under 6. The imagiNATIONS Activity Center at the National Museum of the American Indian is another gem for young kids. Best of all, admission to the Smithsonian Museums is free, so you're able to pop in and out when the kids are ready for food or a nap.  
For more history, bring the whole family on a Potomac River cruise to Mount Vernon, the estate that was home to George Washington (from $49.95). End the night with a stroll past the illuminated monuments.  
Exploring a new urban jungle with kids in tow can be fun for everyone.
Quebec City, Quebec, Canada
If you want a European escape but can't stomach a trans-Atlantic flight with young kids, head to Quebec City. You'll delight in listening to conversations in French, eating delicious pastries and strolling through quaint cobblestone streets that have a distinctly European feel. Quebec was a battleground when France and Britain were racing to colonize the New World, so it's rich with history from both cultures. However, it is now a thriving and fiercely independent territory that has its own art and culinary traditions just waiting to be discovered. 
To maximize your experience, stay in Old Quebec, the walled portion of the city that was built in the 17th century and is now a UNESCO World Heritage Site. Kids will love running along the city's ramparts and exploring buildings like the Fairmont Le Château Frontenac, which looks like a real-life Hogwarts. Watch the changing of the guards at The Citadelle of Quebec ($16 per adult; free for kids under 10), an active military fort where kids will love seeing a goat (yes, a goat) in full regalia, while parents learn about the complex history of Quebec and enjoy sweeping views over the St. Lawrence River.  
For a modern thrill, take the kids to Benjo, Inc., a toy store in the nearby St. Roch district. Children will love entering through the specially designed Little People's Door, then riding an electric train through the store.  
San Diego
If you're California dreaming, take the family to San Diego. The city has a combination of natural beauty and theme park attractions that will give your vacation a blend of relaxation and thrills.  
If you're up for a theme park adventure, head to LegoLand (tickets start at $89.99), where kids can enjoy more than 60 rides, dance with their favorite characters and exchange one of their own Lego figurines for a new one. (Keep in mind: Kids shorter than 36 inches or younger than 4 are excluded from some rides.) If you're not tired out from day one, head back for LegoLand's waterpark and aquarium on subsequent days.  
If you need a slower pace after all that excitement, head to Balboa Park, a cultural park with gardens and museums just waiting to be explored. Kids will love the San Diego Model Railway Museum ($11.50 for adults; free for under 5's) and seeing a show at the Marie Hitchcock Puppet Theater ($5). For your beach fix, head to the Children's Pool Beach, an area protected from rugged surf by a sea wall. Kids who don't want to brave the cold water will enjoy watching for seals and sea lions who frequent the cove. (The beach is closed December 15 through May 15 when harbor seals have their pups there).  
When the kids are tuckered out, head to the Gaslamp Quarter, which bills itself as the historic heart of San Diego. Full of dining, shopping and entertainment options (and all within 16-and-a-half blocks), it's an easily walkable attraction everyone can enjoy. 
Nashville, Tennessee
Nashville is best known for live music and a thriving bar scene. Although that can be a little tricky with the under-5 crowd, with a little bit of flexibility and planning the Music City can be a great family destination.  
For a family-friendly show, visit the Nashville Children's Theater, which puts on professional-quality children's shows (tickets are $21 for adults; $16 for kids 2 and over). Give your family a sweet treat and support a family-owned business by visiting Five Daughters Bakery, where you can get doughnuts that are worth every single calorie.   
Of course, the real draw of Nashville is the music scene. The Grand Ole Opry is without a doubt one of the most famous playhouses in the world, drawing names from Patty Loveless to Garth Brooks. The daytime tour is a great way for families to see the iconic venue ($32 for adults; $27 for 4 and over; under 4's are free), but while you're in town it's well worth returning to see a live show in the evening without the kids. If you're overwhelmed by all the options available, use the free Nashville Live Music Guide app to find shows in the genre, area and price point you're looking for.  
Take the next step
Our advisors will help to answer your questions — and share knowledge you never knew you needed — to get you to your next goal, and the next.
Get started
Want more? Get financial tips, tools, and more with our monthly newsletter.