6 Budget-Friendly Summer Activities You Can Do in the Backyard
---
Natasha Burton
Jul 16, 2020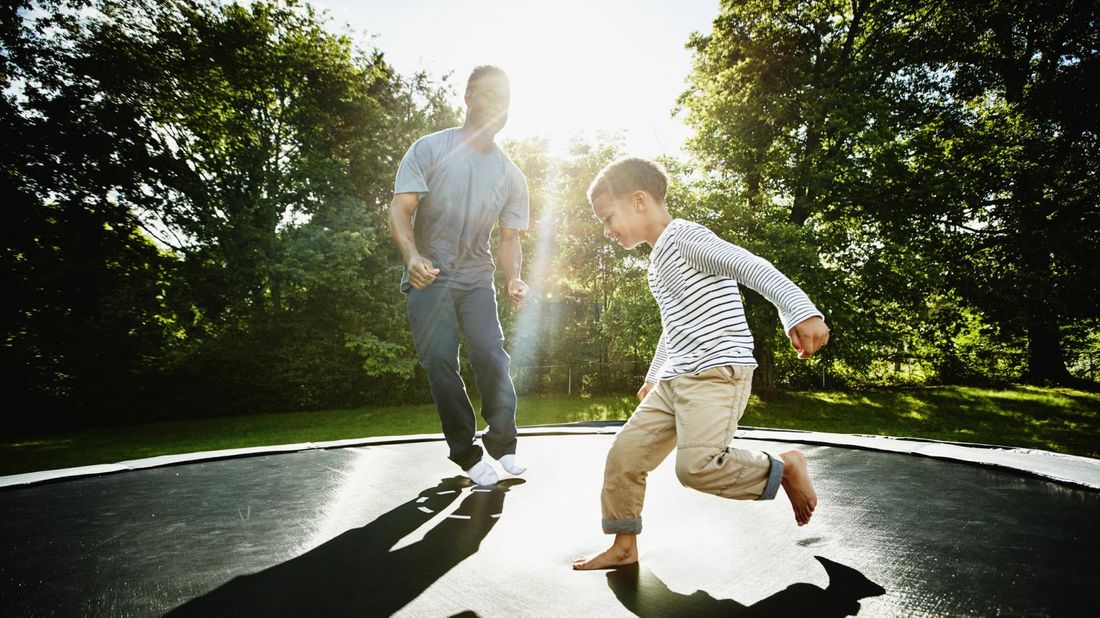 With the pandemic still shutting down much of the country, many families are skipping summer travel this year and opting for a family staycation. Cancelling vacation plans can be disappointing — especially if you're feeling quarantine fatigue — but with a little planning you can still create lasting memories, without the packing, jetlag and big vacation expenses. Check out these budget-friendly summer activities for family fun to spark your imagination.
INVEST IN PLAY EQUIPMENT
If you have the space and a water source, consider springing for a bounce house, a slip-and-slide or a trampoline to help keep kids entertained.
"As a parent of two young children under the age of 4, it has definitely been challenging keeping my boys occupied for the past three months," says Brendan Heffernan, a writer and editor at basketball blog Dunk or Three. "Getting a trampoline has been a great time-killer for the boys — it helps tremendously when naptime comes around."
Heffernan adds that outdoor play equipment can also help kids build strength, coordination and confidence, in addition to tiring them out. Plus, most of these items are much cheaper than a family vacation: a basic bounce house or trampoline will set you back roughly $300 and can be used for years to come. Review safety information for each, of course, and make sure you're ready to supervise the play.
ORGANIZE FIELD GAMES
Even though many sleepover camps have opted to shut down this summer, you can channel those vibes by filling up water balloons, tie-dyeing T-shirts and coordinating old-school team games such as capture the flag and tug-of-war. If you're feeling really ambitious, build an obstacle course — the possibilities are endless when you mine your own formative years for family games.
Another option is to create kids' versions of more adult games. "I played a rousing game of 'water pong' with my daughter earlier this summer and she thought it was the greatest thing ever," says Even Porter, a parenting writer at Dad Fixes Everything. "I set up some cups full of water on a bench and broke out the ping pong balls, then we played straight up and practiced some trick shots. It's probably not something I ever would have thought of without being a little desperate!"
Families with bigger broods or who have formed "quaranteams" can engage in friendly competitions, complete with prizes for the winners of each event.
CELEBRATE JUST ABOUT ANYTHING
One way to keep the days from blending together is to break out festive decorations — especially on rainy days. Katie Green, a mom of three and editor of Green Active Family, says she and her family compressed a year of fun during lockdown by holding different pretend parties every week. 
"Our first celebration was throwing a birthday party for all my daughter's teddy bears," she says. "We baked a cake, chose presents from my daughter's toys, wrapped them in reusable gift bags, decorated our dining room and dressed up the bears. When the time came, we even sang 'Happy Birthday' and blew out the candles on behalf of the teddy bears."
Outdoor play equipment can help kids build strength, coordination and confidence, in addition to tiring them out.
HOST BACKYARD MOVIE NIGHTS
Porter suggests investing some of your would-be vacation funds in a quality, yet affordable, projector. Then, rig up a big sheet in the backyard and let everyone take turns choosing a film.
"A neighbor of ours has been hosting semi-weekly outdoor movie nights," he says. "All the kids bring chairs, sleeping bags and snacks. It's an awesome break for us parents, too, since we can either enjoy the movie or bring along a glass of wine."
BREAK OUT THE CAMPING GEAR
Kids of all ages love the idea of sleeping outside, says Shannon Serpette, a mother of two and the chief editor at parenting site Mom Loves Best.
"My 12- and 14-year-olds still get so excited when we announce we're pitching a tent in the backyard or cooking hot dogs and s'mores over the fire," she says. "And if you feel safe enough to invite one or two of your child's friends, they'll remember this kind of night for years to come."
The great thing about backyard camping, besides the stargazing and story-telling, is that if anyone has trouble sleeping, the house is just a few feet away.
START A GARDEN
You may not get to hike a national park this summer, but you can bring a bit of nature home with a backyard or even a container garden. Though some may consider it a chore, gardening can keep everyone busy week after week.
"We've pretty much burned through all the one-off crafts and projects we can think of, and the things that have really served us best are long-term outside activities," Porter says. "For example, we got our daughter her own little pot of soil and planted wildflower seeds in it. She checks on it every day and waters it — it's really fun to watch it bloom. She also helps us in our big vegetable garden."
From planting to harvesting, you can also use the garden as a jumping off point for other experiences. Use it to grow different herbs for recipes, try new vegetables or embellish your meals by incorporating edible flowers.
Take the next step
Our advisors will help to answer your questions — and share knowledge you never knew you needed — to get you to your next goal, and the next.
Get started
Want more? Get financial tips, tools, and more with our monthly newsletter.