Our Best Tricks for Eating Healthy Without Blowing a Lot of Money
---
Rachel Grumman Bender
Mar 01, 2017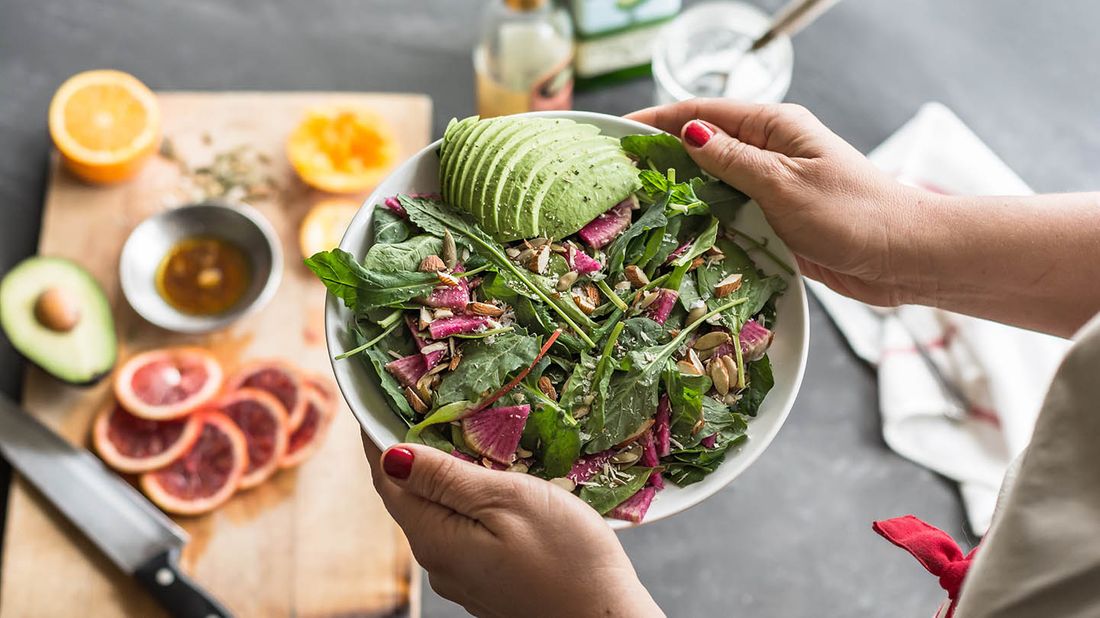 Anyone who has ever perused the organic produce aisle at the grocery store may be led to believe that eating healthfully and sticking to a budget are totally at odds. But making smart (not to mention delicious) decisions about what you pack on your plate doesn't have to drain your wallet. Unconvinced? Give these creative, money-saving tricks a try.
1. COOK WAY TOO MUCH FOOD — REALLY
Vegetarian chili, pot roast, meat loaf, a whole chicken — each of these delicious meals is super easy to make, say on the Sunday before the workweek, suggests Keri Gans, R.D., author of "The Small Change Diet: 10 Steps to a Thinner, Healthier You." Just toss together the raw ingredients, season and let your oven or stove do the rest. For less than $10, you've got several days' worth of lunches and dinners that can be the star in sandwiches, salads and burritos for both you and your family.
2. BUY UGLY PRODUCE
We're not being judgy here. "Ugly" is the industry term for cosmetically imperfect produce such as dented potatoes, curvy carrots and blemished apples. Not only are ugly fruits and veggies as nutritious as their Insta-worthy counterparts, they're also more affordable. An increasing number of supermarkets, including Wal-Mart, sell ugly produce at cut-rate prices — think 50 percent off.
3. GET PACKING ... YOUR LUNCH THAT IS
Preparing food to take to work will not only save you money — midday takeout or a sit-down meal can run you $10 per day at least — but it can also help you make healthier food choices and prevent food waste because you're forced to plan your meals ahead, says Keri Glassman, R.D., founder of The Nutrition School, a nutrition training program. Even giving it a try just one or two days each week will amount to sizable savings over time.
4. SPEND A LITTLE MORE TIME IN THE KITCHEN 
It's super convenient to not have to wash, cut up and portion out everything from produce to nuts to cheese to meat. But food stores jack up the price of prepared items fourfold in some cases, and all you're really paying for is the packaging and the extra minutes it takes to chop them at home, says Gans. Grab your knife and prep them yourself — and save.
5. CONSIDER EATING LESS MEAT 
Depending on the cut you go for, meat can be pretty pricey when compared to plant-based foods. Consider swapping sirloin or pork loin for plant protein such as tofu, legumes or whole grains like quinoa, which are way cheaper and last a lot longer in your pantry or fridge. At the very least, give some thought to joining the meat-free Mondays trend.
6. CHANGE YOUR SHOPPING HABITS
Do you regularly buy fresh fruits and vegetables but end up trashing them a week later? If that happens frequently, check out the frozen aisle. Because fruits and vegetables are frozen at peak ripeness, they don't lose nutritional value, says Gans. Thaw only the amount you need and keep the rest in the freezer; they'll be good for months and are significantly cheaper.
7. STOCK UP ON SALES 
There's a reason your grandma liked to freeze just about everything — it makes almost any kind of food, from steak to bread to produce, last longer. Next time there's a sale at your local market, stock up on items you know you'll want to eat at some point, then toss them in the fridge or freezer and count up the dollars you've saved.
Buying certain items in bulk, like chicken breasts, nuts, grains and ground beef also tends to be more affordable. If you don't have extra pantry or refrigerator space, freeze them individually (in the case of ground beef, you can form it into patties first and then freeze), suggests Gans.
8. BE SMART ABOUT TIMING
Ever wait until you're ravenous to hit the supermarket or order takeout, then find yourself with way more food than you could possibly eat? Studies confirm that not only do we tend to buy more food when we're hungry, we choose higher-calorie items as well. Pick up or plan your meals when your stomach isn't growling, and you're likely to spend less and eat better to boot.
Take the next step
Our advisors will help to answer your questions — and share knowledge you never knew you needed — to get you to your next goal, and the next.
Get started
Want more? Get financial tips, tools, and more with our monthly newsletter.