How Much Does It Cost to Rent vs. Buy an RV?
---
Jacqueline DeMarco
Jun 24, 2021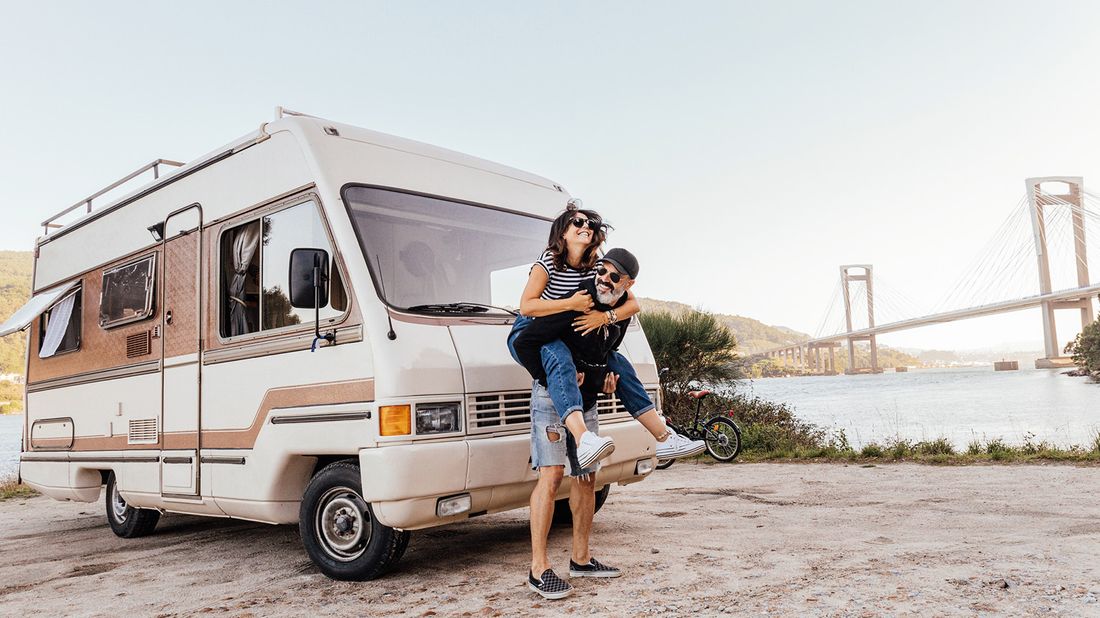 Many of us are itching to get back to traveling, but not everyone feels comfortable taking a plane or train yet. For those people, road trips are more appealing than ever.  
And with so many hitting the open road, recreational vehicles have gained in popularity since the start of the pandemic. It's easy to see why: RVs are a vehicle, hotel and restaurant in one. Plus, there's a certain degree of novelty in RV traveling, and you have more flexibility over when you want to take a trip. 
So how much does it cost to rent versus buy an RV? Here's what to consider. 
IF YOU'RE LOOKING TO RENT AN RV 
The cost of renting can range anywhere from $99 to $300 a day, according to Ashley Mann, founder of RV Inspiration. Prices vary depending on how long you're looking to rent, the time of year and the model of RV. Rental sites, such as RVshare and Outdoorsy, allow you to compare prices. As you consider your options, "read the fine print when it comes to anything that might go wrong," Mann says. "Know who is responsible for insurance, and exactly what is and isn't covered." 
While the specific features of your rental will come down to preference, "you just need to make sure there's a bed for everyone who will be traveling together and that the RV will work for the activities you're planning," Mann says. "For example, if you're planning to visit a particular campground, you'll want to make sure the RV you rent fits in the campsite." 
IF YOU'RE LOOKING TO BUY AN RV 
Depending on the type, how old it is and what condition it's in, buying a RV can cost anywhere from $10,000 to $300,000. It's an investment, but you may decide it's worthwhile if you plan to use it often. When you rent an RV, both insurance and maintenance are baked into the rental cost, "which is why it costs so much to rent," Mann said, "You would probably come out ahead by buying for frequent or long-term use, especially if you buy something that won't go down too much in value." 
Just as with renting, think through how you plan to use the RV to help you decide which amenities you'll want or need. For instance, if you'll use it for weekends at the lake where there are picnic tables and campfires, you might not need one with a fancy kitchen or large living area. But if you're planning to take it on extended vacations, consider whether you'll be comfortable spending rainy days in it, or if it has enough room for you to work remotely. 
Should you buy new or used? 
When you buy a used RV, it's ideal if the original owners took care of any manufacturing problems or repairs. If you buy an RV that is only a few years old, an after-market warranty (around $150) will give you the same peace of mind you would get with buying a new one, Mann says.  
However, she cautions against buying an RV that's more than 10 years old, as it will require a decent amount of maintenance and labor when parts start wearing out. "You'll encounter some of this with any RV, but the older the RV, the more work it will require," Mann says. 
While a new RV will, of course, be pricier, an upfront investment means not having to immediately think about replacing parts. And when you buy new, you can have the RV built to your custom specifications. "However, you'll pay a premium for this convenience," Mann says. "If custom is what you're looking for, any RV can be customized to your liking." 
ADDITIONAL COSTS TO CONSIDER 
Whether you decide to rent or buy an RV, be sure to budget for additional expenses. 
Fuel. The cost of gas can add up quickly for long trips, especially if your RV requires pricey diesel fuel. Plus, the heavier your RV is, the more you can expect to spend. 
Insurance. When you purchase an RV, Mann says you can expect to pay anywhere from $100 to $200 per month for insurance. The cost can vary greatly depending on your driving record. 
Take the next step
Our advisors will help to answer your questions — and share knowledge you never knew you needed — to get you to your next goal, and the next.
Get started