Dan Pierson, as told to Lauren Kubik
Mar 23, 2018
I Quit My Job to Travel Full-Time. Now, It's My Business
Welcome to the new retirement. It's about having the freedom to decide when and how you want to take a break from work — to rest, recharge or start a new adventure — no matter your age. In our Redefining Retirement series, you'll learn how real people are living their lives to the fullest, and the steps they took to get there.
Here, Dan Pierson, 31, shares how he turned his love of travel into a full-time business called Bolt Collective.
"Were you in the U.S. military? Why are you walking across Cuba?"
Questions like these from Cuban police officials continued for seven long hours. To be fair, I had just wrapped up a four-month bike ride across the U.S. before embarking on a 300-mile walk across Cuba — not exactly the most believable story. I had set off from Havana 45 days earlier, eager to see the country one step at a time. Yet the police station was where this particular adventure ended.
This pit stop was one of many in my journey to turning a passion for adventure travel into a full-time profession. But first, let me back up.
A TRAVEL BUG THAT BEGAN EARLY
I come from a family that values travel and learning about new cultures. Growing up as the youngest of four kids, I always marveled at my older siblings' adventures around the world. My own nomadic tendencies began when I took a gap year after high school to backpack as far away from my home of New York City as I could — Alaska, Australia and New Zealand. I explored the wilderness and lived outside my comfort zone. After college, I moved to Argentina, where I knew I could have a low cost of living, brush up on my Spanish, and figure out my long-term plans. I ended up launching an online marketing agency while there to support myself.
Despite a few years of resistance, I returned to the U.S. for a more traditional desk job. I moved to San Francisco for a great job with Lyft. However, just a few months in, my lunch breaks stretched from the typical quick bite to lengthy jaunts around the city. It struck me: I'd lost enthusiasm for the 9-to-5 lifestyle.
SAYING GOODBYE TO SOMETHING STEADY
After just nine months, I quit my job to travel again. I said goodbye to Lyft, grabbed my bicycle and spent the next four months cycling from Seattle to New Orleans — the longest distance possible that I could map out. I lived off of savings I'd accumulated by living frugally in San Francisco and estimated I had enough for one year of budget travel. I kept costs low by camping the majority of the time, staying with friends, and limiting my expenses mostly to food from local grocery stores along my route.
While on this journey, I realized I didn't want to stay in just one place. Once I ended my cross-country ride in Louisiana, I was faced with the question, "What now?"
"Building this business and being my own boss has given me the freedom to work on something I really love."
For the next few years, I continued to travel internationally on a budget, including that aforementioned walk across Cuba. I also did some freelance work as a marketing consultant to pad my travel budget. After a while, I moved home to New York and spent 2017 consulting and building my live concert series, Subway Sets.
Working on these projects helped me realize that producing big experiences, along with my passion for travel, was a path I needed to explore. After all, I had always loved planning elaborate adventures for friends. I finally felt that I had some direction for my professional path, and I was ready to make another big leap.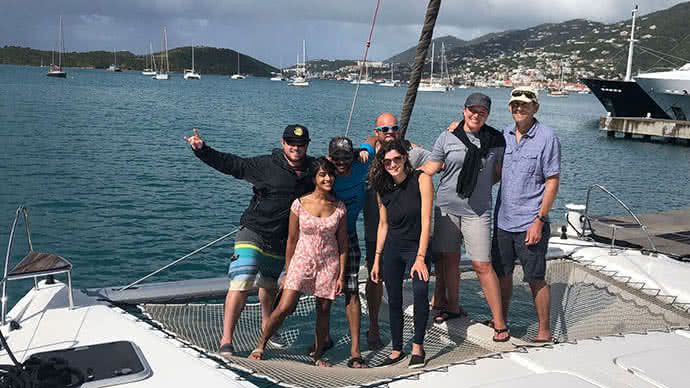 Dan Pierson (left) and one of his Bolt Collective travel groups in the Virgin Islands. Courtesy of Dan Pierson
THE BEGINNING OF SOMETHING NEW
This past fall, I found myself at a bar with some former colleagues, rambling on about an idea to create group travel opportunities for people who hate group travel. (I know that not everyone shares my enthusiasm for extensive vacation-planning.) Through a membership model, users would pay for access to unique travel experiences every month. By pooling financial resources and tapping into group rates, I could make meaningful travel more accessible to people who think they don't have the budget for it. I launched Bolt Collective in 2017.
Since the launch, we've taken over a compound of beach treehouse villas for New Year's Eve in Oaxaca, Mexico, and just wrapped up a seven-night catamaran sailing voyage around the Virgin Islands. While early Bolt experiences were made possible because of personal connections I made through my years of travel, I want the growing Bolt community to contribute their own ideas for new locations, concepts and themes. In just seven months, we've added more than 50 members and have adventures planned through the end of the year.
Although I sometimes dream of a steady paycheck, not all of us are cut out to work in an office, and that's OK. Building this business and being my own boss has given me the freedom to work on something I really love, and I can see myself staying put with this venture — because it'll take me to the corners of the world I'm most eager to explore.
Take the next step
Our advisors will help to answer your questions — and share knowledge you never knew you needed — to get you to your next goal, and the next.
Get started