Tips to Find a Nanny Share That Works for You
---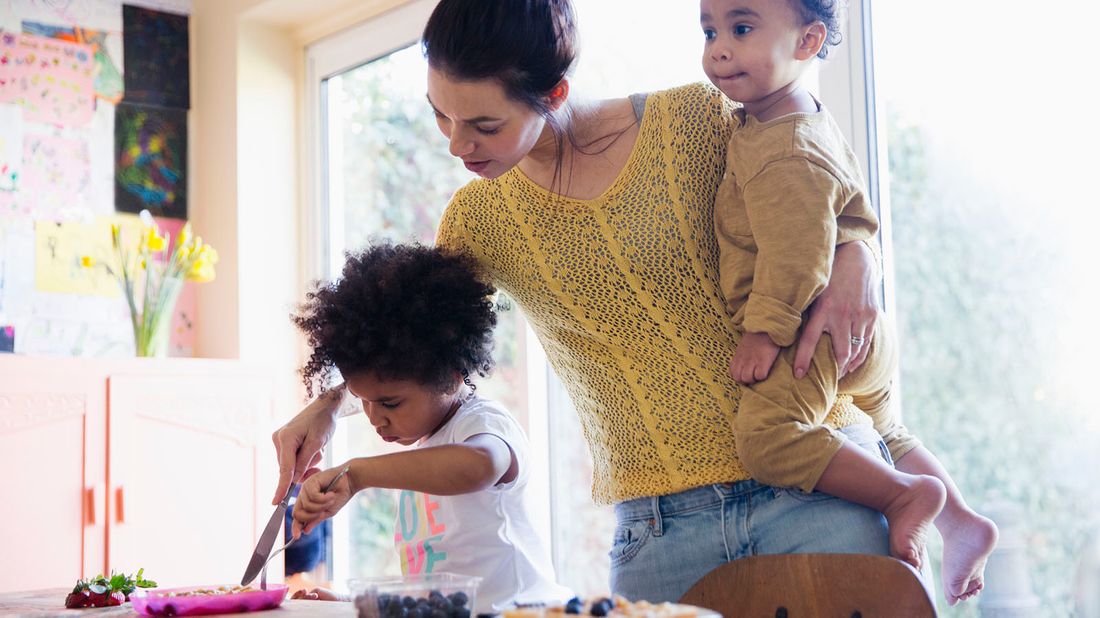 When thinking about growing your family, one question you can't ignore is how you'll work the cost of child care into your budget. According to a recent Care.com study, it's where one in four families spend 15 percent or more of their household income. 
As families look for ways to lower this cost, more creative solutions are on the rise. One such example is a nanny share, where two or more families employ one nanny. The benefits are clear: personalized care while sharing the cost (industry standard is that each family pays the nanny about two-thirds of what they would pay on their own) and the tax burden of having a household employee. But, finding the right caretaker for your little one is hard enough — finding a nanny and at least one other family you work well with can be even more difficult. Here are tips to find a nanny share that works for you. 
Find a compatible family 
Finding a great nanny is important, but it can be even more instrumental to find a family that you are able to work with in a nanny share. Parenting groups, child care agencies and word-of-mouth are all good ways to connect with other families who are looking to share child care costs.  
The family you are 'sharing' with will become a big part of your life, so make sure that you're comfortable with their communication and parenting styles.
It's important not to jump in with the first family you find who's also interested in a nanny share. Take the time to decide whether you'll be able to work well together. After all, the family you are "sharing" with will become a big part of your life, so make sure that you're comfortable with their communication and parenting styles.  
"It's important to find a family who shares the same child care philosophy as you do so that discipline, boundaries and child care approach are the same," says Katie Provinziano, founder of Westside Nannies in Beverly Hills, California.  
You should also consider details like the children's ages, parents' schedules and allergies as you look for a family to work with. Set up in-person meetings before you make any decisions. And if your child will be in their home and vice versa, check out each other's spaces to make sure you feel comfortable with your children spending time there. 
Work together to find a nanny 
Once you've found a family to work with, craft a job description for your nanny together. Agencies and online sites are a good place to start your search. You'll want to look for someone who has experience with multiple children, and a nanny who has previously worked in a nanny share will have a better understanding of the commitment and communication required to make a share work.  
Remember to be realistic about your expectations, though, especially if the nanny is watching several kids. For example, while regular outings and light housework might be feasible for a nanny watching one or two children, that may be too much to expect from a person with three or four charges, says Elizabeth Malson, president of the Amslee Institute, an online school that trains child care professionals. 
Communicate openly
The most important elements to a successful nanny share? Communication and calendar management, Malson says.  
Rather than dealing with issues as they arise, try to be proactive in providing the parameters. Consider questions like these: 
In which house will the nanny work? Malson recommends choosing just one home so the nanny and children can craft a routine.  
Will the nanny be driving the kids? If so, do extra car seats need to be purchased? Whose car will be used? Who will pay for gas? 
What happens when someone is sick? At what point is a child too sick to come to the nanny swap? Also consider what will happen if the nanny gets sick. 
How will vacation time be handled? When one family is away or doesn't need care, will they still be responsible for paying their portion of the nanny's salary?  
Figure out the finances
Since a nanny is your employee, payment is a little more complicated than writing a check every two weeks. After agreeing on a rate and schedule, you should also decide how your nanny will be paid, how often and how taxes will be handled. Typically, as the employer you should put aside an additional 20 percent of the nanny's pay for taxes, Provinziano advises. 
It may seem easiest for each set of parents to pay the nanny their share of the swap directly, but Provinziano recommends putting the nanny on a shared payroll service so that you know your portion of taxes are covered.  
You'll also want to agree on a policy for time off and sick days, overtime pay, expense reimbursement, as well as termination requirements. Once all parties are on the same page, it's wise to draw up a written contract for everyone to sign, so there are no surprises down the road. 
Stay consistent
If you've done the bulk of the work up front by outlining expectations and responsibilities, the arrangement should run smoothly. However, it's important that everyone remain consistent and courteous to the other participants.  
"Families must have a strong commitment to the weekly schedule, communicating well in advance any changes so the other family and nanny can accommodate," Provinziano says. "Consistently running late for drop-off, pick-up or after-school activities can make it difficult to sustain a nanny share." 
Take the next step
Our advisors will help to answer your questions — and share knowledge you never knew you needed — to get you to your next goal, and the next.
Get started
Want more? Get financial tips, tools, and more with our monthly newsletter.