What New Parents Need to Know About Their Finances
---
Having a baby changes your life. Here we offer financial tips for new parents to make sure they're setting up their growing family for financial success.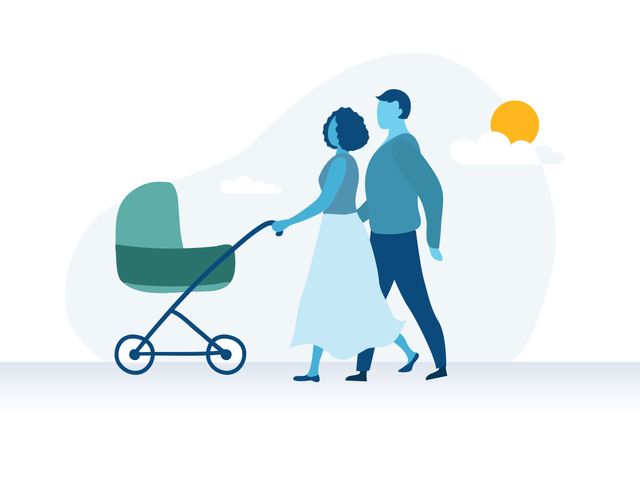 Your life is about to change. Every new expecting parent has heard the phrase. And it's true — having a child changes so many aspects of your life. This guide focuses on how your baby will change your financial situation. It's no secret that babies are expensive. The good news is that with a little planning, you can feel more prepared — financially — for this next big phase.
What's in our new parents' guide to finances?
Section 01 Paying the hospital bills
Before you even buy your first diaper, you're likely going to have health care costs related to having a baby. In fact, the average total out-of-pocket cost comes to $2,854, according to one Kaiser Family Foundation analysis. Some common costs include:
Regular prenatal appointments.

Prenatal genetic testing.

Unexpected health issues that may arise during pregnancy.

Childbirth.

Hospital services for mom and baby following the birth.
How to prepare:
Reach out to your health insurance company sooner rather than later to clarify your benefits. This can help you estimate what your financial responsibility will be. Some helpful questions to ask:
Do I have a deductible? If so, how close am I to meeting it? (After you hit it, more costs are likely to be covered.)

Does my plan have an out-of-pocket maximum?

What OBGYNs and midwives are in my network?

Which hospitals and birth centers are in my network?

Is there a co-pay for prenatal visits?
Following the birth, you'll likely receive multiple bills from different providers. Apart from the hospital itself, you may be billed separately by your doctor, anesthesiologist and other medical providers who contributed to your care. If you're concerned about being able to cover everything at once, contact their billing departments to see if you can enroll in installment plans. This will allow you to pay off your balances gradually over time.
$2,854
The average out-of-pocket cost for having a baby.1
Section 02 Paying for parental leave
If you're working, the good news is that in most cases, your employer will be required to allow you to take parental leave. The Family and Medical Leave Act (FMLA) allows eligible employees to take up to 12 weeks off. However, while FMLA protects your job, your leave may be unpaid. According to research from career site Zippia, only 23 percent of those working in the private sector have access to paid maternity leave, and the average amount of paid leave is eight weeks.
Eleven states (below) and the District of Columbia currently offer paid family and medical leave, which is funded through employee- and employer-paid payroll taxes.
California

Colorado

Connecticut

Delaware

Massachusetts

Maryland

New Jersey

New York

Oregon

Rhode Island

Washington
Leave is especially important for new moms who need time for their bodies to heal in addition to the opportunity to bond with their babies. But dads also typically take time to help and also bond with baby. So you'll want to make sure you're planning for how you'll cover this cost.
Start with HR: Whether your employer offers nothing or fully covers the cost of parental leave (as more and more companies do), this is a good place to start. In addition to helping you understand benefits you may be able to leverage to help pay for your leave, your HR department can also help you understand your health care benefits.

Clarify your state benefits: See if your state provides any amount of paid leave. State policies vary, but if you live in a state that offers benefits, you may be able to rest easier about this part of having a baby.

Save up your sick days and vacation time: Depending on your employee benefits, your employer may have a leave donation program in place. This allows employees to donate accrued paid time off, sick leave, and vacation days to a general pool. From there, employees who experience a qualifying medical emergency can tap into it. If this isn't an option, you can rely on unused days you may have to stitch together some paid leave.

Use cash savings: If you and your partner have cash reserves on hand, you might use a portion to replace your income during your leave. The rule of thumb is to have six months' worth of expenses saved in your emergency fund. If you end up depleting that, be sure to make a new plan for replenishing it once you're back to work.
Don't forget to add your new baby to your health insurance plan soon after the birth.
Section 03 Paying for child care
If both parents are planning to work, this is often one of the biggest financial considerations. That's because child care costs tend to be quite significant. According to a 2022 Care.com survey, over half of parents say they spend more than 20 percent of their household income on child care. Below is the average weekly cost of care for one child:
Nanny for an infant:

$694

Child care center for toddler:

$226

Family care center for infant:

$221

After-school babysitter:

$261
How to prepare:
Again, every family is different. Below are some options that may feel right for you and yours.
Leveraging flexible work arrangements: If you're partnered, is it possible to tweak your work schedules a bit? Perhaps that means the two of you work remotely, either full time or several days a week. Maybe you get up early and work while the other takes care of the baby for a few hours; then you take the baby and let your partner work. In practice, your arrangement would be tailored to your jobs and needs.

Leaning on family for help: If possible, see if family members can chip in with child care. That might mean creating a rotation in which grandparents switch on and off while you work.

Changing how you work: Some parents might like the idea of transitioning away from full-time work and into freelancing or consulting. This allows you to make your own schedule, take your own clients and work around your little one's needs. It can also keep your résumé fresh while you stay active in your industry. That can come in handy if you choose to return to full-time work down the road.

Opting for traditional child care: You might need to weave in traditional child care while your child is too young for school. That could be a babysitter, nanny or child care center. Either way, be sure to go with a licensed care provider that has positive reviews and rates that fit your budget. Asking other parents can be a great place to start. You might consider joining a local parent group on social media to connect with other parents and get recommendations.

Looking into a dependent-care FSA: Check with your employer to see if it offers a flexible spending account (FSA) for dependent care. A dependent care FSA allows you to set aside pretax dollars for qualified child care expenses. These contributions are typically taken directly from your paycheck. Employees can kick in up to $5,000 in 2023. If there's an unused balance at the end of the plan year, your employer may offer a two-and-a-half-month grace period to use it. If not, funds won't roll over to the next year.
Section 04 Buying the stuff you'll need for your baby
For such a little person, a baby sure needs a lot of stuff. Having a baby brings about all sorts of expenses. Hopefully you'll have the opportunity for a shower. But if you don't get everything you need from others, here are average price points, according to What to Expect:
Infant car seat:

$80 to $400

Stroller:

$100 to $1,000

Bassinet:

$150 to $250

Baby monitor:

$25 to $400

Baby swing:

$120 to $150

Crib:

$125 to $350

Crib mattress:

$50 to $150

Changing table:

$100 to $200

Diapers:

$510 to $930 in the first year

Baby formula:

$1,200 to $1,500 per year
You may also need breastfeeding accessories, not to mention toys and baby clothes (which your child will continually outgrow). Preparing ahead of time can help your budget absorb all these new costs.
How to prepare:
Seeing all the things your baby needs can be overwhelming. Start with the essentials and take it from there. Here are a few other simple ways to prepare your finances for parenthood:
Look for secondhand baby gear: There are some baby items, like car seats, that you'll want to purchase new for safety reasons. But some used baby gear can throw you a financial lifeline. That includes secondhand furniture, clothing and strollers. Check out your local consignment shops — you may find some that are dedicated to baby items. You can also ask local parents on Facebook groups. Craigslist and Facebook Marketplace are other places to find gently loved baby essentials.

Have a baby shower: Chances are your friends and family want to celebrate you and your growing family. A baby shower could help you check some important items off your list, especially if you open a baby registry beforehand. Afterward, retailers like Amazon and Target may let you purchase your remaining wish list at a discount.

Sign up for retailer mailing lists: Buy Buy Baby and Bed Bath & Beyond both offer a one-time 20 percent off coupon if you sign up for their email lists. The Children's Place offers 25 percent off. You can also follow your favorite brands on social media to stay in the know about upcoming sales.
Section 05 Revisit your financial goals
When you're young and starting out, you probably have things like retirement, a home and travel on your goals. Now you may have some new ones. Here are a few to consider:
College:

Are you planning to help pay for some or all your child's

college education?

If the answer is yes, the sooner you start saving, the better. The good news is that there are tax-advantaged options available to you, such as

529 accounts

.

Insurance:

Have you insured your paycheck? Whether the insurance is for disability or something worse, you have someone who is depending on your income now. It's a good idea to consider things like

life insurance

to protect your growing family.

Goals for your family:

Are there other things you want for your child? Perhaps certain family trips are important. Or maybe you want to send them to private school. While it can seem like there's a lot going into your budget now, the sooner you start thinking through what's important to you, the sooner you can start prioritizing. That may mean letting go of some things you spend on now, but remember, you're saying no to one thing so that you can say yes to something else.

Retirement:

This one isn't directly baby-related. But given the baby sticker shock you might be going through right now, it can be easy to "find money" by cutting back on contributions to your retirement. While everyone's situation is different, it's typically important to continue to prioritize retirement savings. After all, you don't want to become a burden on your children later in life.

Emergency fund:

Hopefully you have some money set aside for emergency expenses. If you do, it's possible you may tap into it for some of the costs you'll face in the coming year. That's OK, but you'll want to plan to replenish your savings. It's a good idea to eventually work toward having about six months of expenses saved.
How to prepare:
This is where a financial advisor can be a big help. He or she can help you revisit your current goals and plan some new ones. Your advisor can also show you how to balance your goals so that you know you're contributing the right amount to each.
Plan for life's big moments.
Our advisors can help build a financial plan for your growing family.
Get started
Section 06 Make a new-parent budget
Your spending habits are likely to change rapidly once you have your baby. While baby expenses are about to take up a lot more room in your budget, you're also likely to leave some other expenses (like going out to eat) behind for now. It's a good idea to track your spending closely at this time to stay on top of your budget as spending shifts.
How to prepare:
Hopefully, we've given you a general sense of what some of your new expenses will be. But it's a good idea to do more research for your situation. Here are some things to consider:
Diapers

Formula or food

Child care

Clothes

New insurance costs

College savings

Toys
While there are a lot of expenses with a baby, there's one place where a child will likely help financially. Most new parents will qualify for the child tax credit. If you qualify, the child tax credit knocks $2,000 per child off your federal taxes.
Section 07 Your estate plan
An estate plan may sound like something more suited for the likes of Beyonce than for you. But without one, a court will make decisions about things like who would take your child and manage any money that you leave to them if something happens to you. With an estate plan, you get to make these decisions. Estate planning has a lot of moving parts but typically includes:
Creating a will or trust.

Deciding who would assume custody of your children.

Designating someone to make financial and medical decisions for you if you're unable to do so.
How to prepare:
There are online tools to create these documents, or you can meet with an estate planning attorney to get your estate plan in place.
Section 08 Rest easier, at least financially
We know this is a lot. It can feel financially draining. But parents just like you are doing this today. You're already on a good track because you're thinking about how your baby will impact you financially. Meeting with a financial advisor can go a long way to help give you peace of mind that you're making the right financial decisions for now and the future. And that's important because you don't need anything other than your baby keeping you up at night.
Want more? Get financial tips, tools, and more with our monthly newsletter.