We Quit Our Jobs, Bought a Boat and Sailed the Caribbean for 2 Years
---
Lauren Weisenthal, as told to Bobbie Gossage
Dec 27, 2017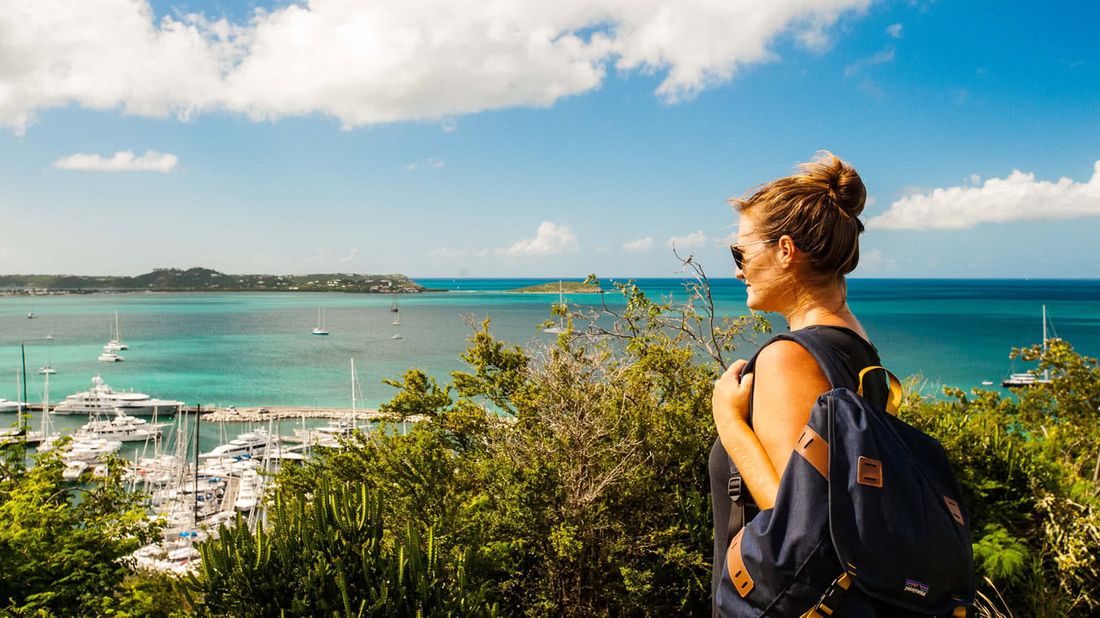 Welcome to the new retirement. It's about having the freedom to decide when and how you want to take a break from work — to rest, recharge or start a new adventure — no matter your age. In our Redefining Retirement series, you'll learn how real people are living their lives to the fullest, and the steps they took to get there.
Here, one woman shares how she and her husband left their lives behind in 2015 to sail the Caribbean for two years.
About four years before our trip, we had never, ever sailed a boat or even knew that we wanted to. We just knew that we wanted a change.
My husband Brian is a software engineer who co-founded a company, and his work had both high highs and really low lows. He supported me a lot throughout our marriage: Before I got a job at a tech company, I went to culinary school while he carried our financial burdens. So when he was ready to say, "I need a break, we need to do something else," I was cool with that.
In 2014, we took a sailing class while on vacation in the U.S. Virgin Islands and fell in love with it. We went back the following year, rented a boat and lived on it for a week. That's when we realized this was the adventure we wanted to have.
We spent $60,000 on a Whitby 42 sailboat, which we named Nightingale Tune. It was old but well taken care of. We spent another $30,000 to upgrade it with modern technology for sailing.
Fortunately, we'd been saving up awhile for this. We had sold our pricey Manhattan apartment, moved into a much cheaper apartment in Brooklyn and downsized our lifestyle. Once we bought the boat, we gave notice at work and started selling everything we had on Craigslist: furniture, clothes, shoes, cooking stuff. It felt really good.
We set our budget at around $2,500 a month for food and boat maintenance. We had some investment income and did a little bit of freelancing, but we basically planned to let our budget dictate how long we could keep sailing. We guessed that we could afford two years while still keeping a healthy cushion in the bank and our retirement savings.
When we finally set sail for the Caribbean, it was really scary. I was excited for the new adventure, which we documented on our blog. But I found myself worrying that there wouldn't be enough going on to fill the days, which really isn't the point of sailing the Caribbean! We also had a learning curve with the boat — there was still a lot to learn about navigation and sailing overnight.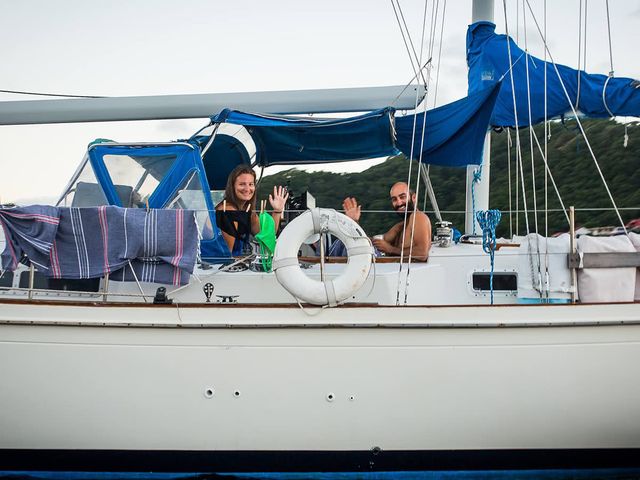 The Weisenthals sailed from New York City to Grenada during their two-year journey. Courtesy of Lauren Weisenthal
When we finally got to the Caribbean, we also dealt with things we'd never experienced before, like erratic weather and food scarcity. When you live near a city you never have to think about basic needs like water and food, but when you're cruising you can spend whole days figuring out how to get them.
On a typical day, we would get up in the morning, have coffee, work on some projects, maybe grease some winches or repair a sail, and then take the dinghy to whatever island we were anchored near to do some exploring. If it was a more populous island, we'd try to get food there, either from a grocery store or restaurant. And in the afternoon we might go snorkeling or catch some lobster. In the evening we usually had a glass of wine, sometimes in the company of our boat neighbors. But most nights, it would just be our boat under the stars, with nobody else around. It was a really simple life, but it was also really cool.
In two years, we went all the way from New York City to Grenada. If I had to pick a favorite place, it would be the Bahamas. It's still so wild and unspoiled and unpopulated, and the water is clear and beautiful. You could take a four-hour sail and be at a new island to explore. It was really incredible to see some of the last, natural places on Earth, and be able to live in that environment.
While sailing, we did a lot of thinking about what we might want to do when we got back to real life. We realized that no matter what we do in the future, we want to have the flexibility to travel and possibly change things up during the year.
That's why I became interested in a restaurant on the island of Vinalhaven, Maine, when it went up for sale a few months ago. Opening a restaurant was on our list of "what to do next" ideas, and the location was a great spot for a seasonal restaurant.
"Most nights, it would just be our boat under the stars with nobody around, no other boats, no people. It was really incredible to see some of the last unspoiled, natural places."
We closed on the property in October. The sale of our boat basically covered the 20 percent down payment for the restaurant, plus the $50,000 renovation budget. It's going to be your quintessential place for fried fish and lobster rolls, and I'll be working with local farms for all of the ingredients. We plan to reopen it by next summer with the perfect name: The Nightingale.
Even though we don't have a boat anymore, sailing has definitely changed me. It's really an exercise in calculated risk. You obsessively follow wave reports, historical data and wind, and you have to decide: Is today the day we're going to sail or not? Constantly having to make decisions that could have a big impact on us conditioned me to be a little less risk averse, which is something I struggled with before we went sailing. Earlier in my life, I had wanted to open a business, but I just didn't have the guts to do it. Four years ago, I probably wouldn't have jumped on the opportunity in Maine — but I feel good about it now.
If things go well with the restaurant in the first year, we hope to travel some more. We've toyed with the idea that, maybe when we've built up our savings cushion again, we'll get an Airstream and travel the West in the wintertime, or go down to Mexico. We'll see where life takes us.
Take the next step
Our advisors will help to answer your questions — and share knowledge you never knew you needed — to get you to your next goal, and the next.
Get started
Want more? Get financial tips, tools, and more with our monthly newsletter.