6 Things to Buy in February — And 4 You Should Skip
---
Catherine McHugh
Feb 01, 2022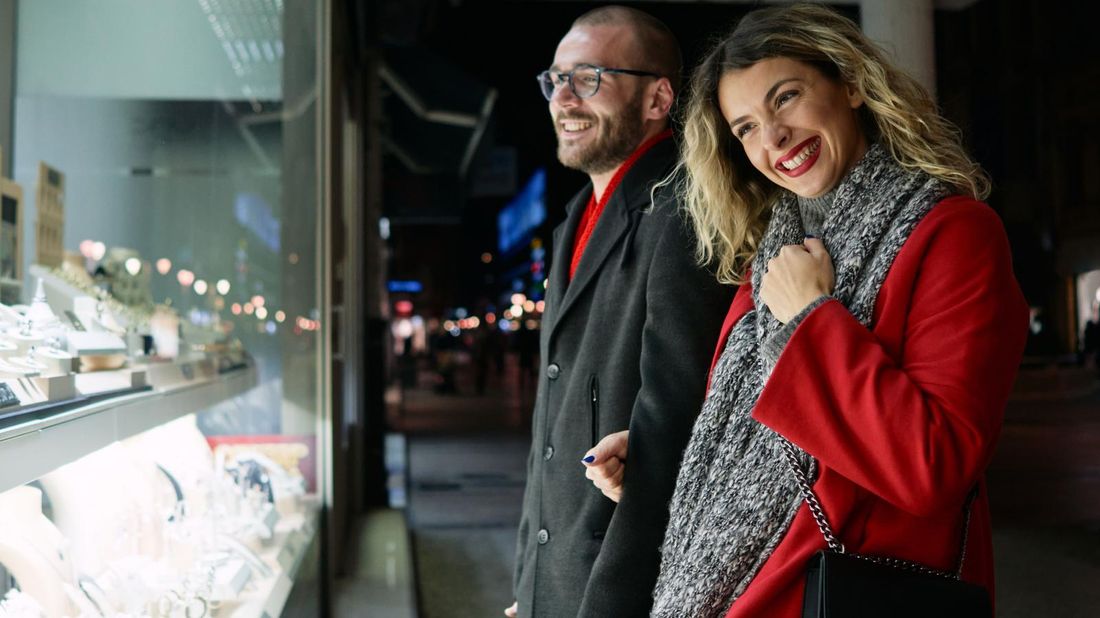 February may be the shortest month of the year but, from the Super Bowl to Valentine's Day to Presidents Day, it manages to pack in a lot of popular sales events. That's good news for bargain hunters.
Kristin McGrath, savings and deals expert at Offers.com, does offer one note of caution: "It will be interesting to see how supply-chain issues affect some of the biggest categories for February, namely TVs and furniture. The deals may be less strong this year, or you might end up waiting a few months for that sectional sofa you snagged a Presidents Day deal on."
Rising prices and inflation may also put a damper on sales prices this year. Even so, you should still expect to see plenty of deals advertised. Here are the best things to buy in February, and a few you should skip.
What to buy in February
TVs and electronics
Whether or not you have any interest in watching the Super Bowl on February 13, you may still want to upgrade your television. "The first few days of February are a chance to snag a TV at near-Black Friday prices — which were a bit lackluster last year, especially for larger screen sizes, due to supply-chain issues and the chip shortage," McGrath says. "So TV deals in February could give shoppers a second chance."
Kristen Gall, shopping and retail expert at Rakuten, adds that this is a great time to shop if you're looking to upgrade your entire home entertainment system. "With people planning gatherings again for the Super Bowl, retailers are taking advantage of this opportunity and will be offering steep discounts on TVs leading up to the big game. This will also apply to TV accessories and sound systems at retailers like Best Buy, Target and Walmart."
February also comes on the heels of January's Consumer Electronics Show, where manufacturers release the latest tech products, so expect to see lower prices on last year's models for 4K TVs, smartphones, tablets and other electronics, McGrath says.
Mattresses
If your long winter's naps have been interrupted by your lumpy old mattress, now is a good time for a new one. "Expect to see steep discounts across major mattress retailers, including direct-to-consumer brands like Casper and Purple," Gall says. "Most of these sales will happen on President's Day weekend, but some retailers may offer discounts all month long."
Furniture and appliances
If you're looking for a new bed to go with your new mattress, Gall says that many retailers will lean into Presidents Day weekend to move out furniture inventory from this past season. Expect to see deals at retailers like Simpli Home, Pier 1 and Macy's.
McGrath adds that some furniture sales will start as early as the Thursday prior to the long weekend.
Beauty products and jewelry
In the bleak midwinter, who couldn't use a beauty boost? As fresh new colors are released for the spring, look for stores like Ulta, Sephora, Macy's and Nordstrom to offer free gifts attached to popular products. "Right after Valentine's Day, you're also likely to find perfumes and gift sets on sale," McGrath says.
If you're looking for a gift for a loved one in time for Valentine's Day, Gall says that department stores like Macy's and Bloomingdale's will be offering jewelry discounts anywhere from 25 to 40 percent off leading up to the holiday.
But if you're looking to acquire some shiny objects for yourself, it might be worth the wait. Once Valentine's Day has passed, McGrath says prices on jewelry will really plummet. "During the last two weeks of February, you can snatch up post-holiday discounts of 60 percent to 80 percent off rings, earrings, bracelets and more — especially heart-shaped ones," she says. "Don't forget: Mother's Day is coming up soon."
Winter apparel
Is your winter wardrobe keeping you warm but leaving you uninspired? If so, McGrath says February features some of the year's deepest discounts on winter apparel and sporting goods.
"Eager to make room for spring merchandise, department stores are offering coats, jackets, sweaters, scarves and other winter clothes and accessories for as much as 80 percent off," she says. "Meanwhile, recreational retailers are dropping the prices of skis, snowboards and other winter gear by up to 30 percent."
Tax software
If you're a DIYer when it comes to filing your taxes, you're in luck. "As we approach tax season, software providers are competing for consumer attention," Gall says. "So expect to see some great savings on these programs."
McGrath adds that tax software companies like to be the first to entice consumers to file with them: "This translates into excellent deals on tax-prep software from companies like H&R Block and TurboTax."
What to skip in February
Spring apparel
You may be over winter and ready to suit up for spring, but don't give in. "If you can resist the urge to splurge on a cute sundress or a warmer-weather jacket, you can typically find the best deals on spring apparel in May and June," McGrath says.
Patio furniture
As soon as the weather is warmer, many of us will be tempted to upgrade our outdoor patio furniture. But if you can hold out, McGrath says the best time for deals in this category is in September, when the kids go back to school and the temperatures drop. "That's when retailers will start to slash prices to clear out their existing inventory and make room for the newer models and fresher colors."
Golf clubs
Hitting the links may also be on your springtime agenda, but McGrath says the latest golf club models are typically released in March. "It's best to wait on making this purchase for a month as you'll be able to score last year's models at much lower price," she says. "And June is a good time for taking advantage of golf club deals."
Fitness equipment and gym memberships
Getting in shape will likely always top popular New Year resolutions lists, which is why January is typically the best month for finding deals on exercise equipment and gym memberships. After pulling in hordes of fitness seekers during New Year's, many gyms roll up their membership promotion signs. "Look for special offers to reappear in the spring, when warmer weather draws members off their treadmills and into the outdoors," McGrath says.
Take the next step
Our advisors will help to answer your questions — and share knowledge you never knew you needed — to get you to your next goal, and the next.
Get started
Want more? Get financial tips, tools, and more with our monthly newsletter.