5 Questions to Ask Before You Take Your Side Gig Full Time
---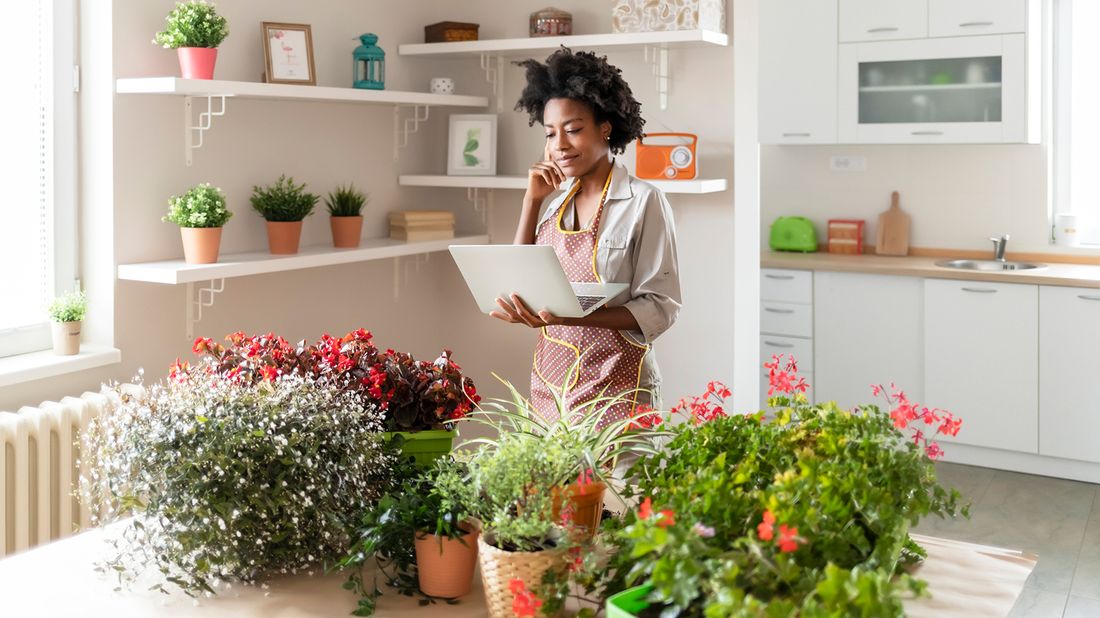 If you're like a lot of Americans, you may have started making money with a side job over the past year and a half that gave you a creative outlet as well as helped pad your income. And now that more workers are craving flexibility and autonomy, you might also be thinking of a way to turn that side hustle into your full-time gig: 57 percent of Americans said they would like to leave their current career path to pursue something they're more passionate about (Northwestern Mutual Survey; August 2021).
But like any major decision, you'll want to do some research before taking the plunge. If you're serious about turning a side gig into your full-time career, here are the questions to ask yourself first. 
HAVE YOU DONE YOUR RESEARCH?

While having a side hustle on top of your day job is one thing, turning it into a full-time career will require planning and preparation. "The right moment to go full-time into a side hustle is different for everyone," says Rachel Garrett, a career and leadership coach. "I recommend an approach that is grounded in data."

To start, research the market and your competition to ensure your product or service is in demand and adds value. From there, determine how much income you'll need to sustain a company on top of your existing expenses — you can do this by creating a budget that covers your monthly expenses and the financial goals you're working to fund.

"People need to know the details of both their business and personal expenses so they are clear on what needs to be covered as the company grows," Garrett says. She adds that your revenue may not match your corporate salary initially, but ideally you are making enough to cover your financial responsibilities or you have enough savings to give yourself a good cash runway, or you can rely on a combination of the two, she adds.

HAVE YOU FLESHED OUT A BUSINESS PLAN?

Once you've determined that your side gig is a viable full-time opportunity, the next step is to build a business plan. This should incorporate everything from your sales strategy, how you'll connect with your target audience, as well as the team you may eventually need to grow your company.

Then, of course, there are your financials. Depending on how long you've been doing your side gig, you may already be making money from it. But do you have enough to level up your business so you can do it full time, or will you need to take out a loan? If so, will your credit score and current debt levels make you attractive to lenders? Having a strong financial foundation is important during this startup phase.

HAVE YOU PREPARED FOR THE UNEXPECTED?

In between the excitement and hard work of expanding a side gig, it's easy to overlook the "what if?" So before you decide to go all-in, make sure you have an emergency fund set aside to cover all essential living expenses for at least six months. You may want to pad it even further in case your business doesn't take off as quickly as you planned.

If you're not planning on joining a partner's health plan, you'll also need to make sure you have enough funds to pay for health insurance and other important policies that will protect your finances, like life insurance and disability insurance. You'll also want to keep saving for retirement, as you won't have access to an employer-sponsored health plan.

DO YOU HAVE A PLAN B?

According to the Small Business Administration, one-third of new businesses fail within two years, and only half survive the first five. While your goal is, of course, to succeed, part of planning is anticipating every possible outcome. That's why it's prudent to have a backup plan at the ready.

If your Plan B is to return to your past career, make sure to leave on favorable terms and keep in contact with your previous employer and colleagues. You can also keep an eye on your competitors should you ever become interested in pursuing a position with them. Keeping your professional options open is a good thing if you find you need to pivot quickly in the future.

ARE YOU MENTALLY READY TO MAKE THE JUMP?

Being mentally ready to take the leap is just as important as being financially ready. "When it comes to mindset, this is the moment the inner critic comes out — the one who wants to keep you safe from doing something you've never done," Garrett says. "Prior to jumping into the business full time, bank some practice acknowledging that voice, redirecting that energy and going for it in spite of the fear."

While a bit of hesitation is understandable, Garrett adds you should also be excited and ready to take a leap of faith. "While the voice never goes away, you can become expert at sidelining it so that it doesn't hold you back on the sometimes bumpy path of entrepreneurship."
Take the next step
Our advisors will help to answer your questions — and share knowledge you never knew you needed — to get you to your next goal, and the next.
Get started
Want more? Get financial tips, tools, and more with our monthly newsletter.