6 Money-Saving RV Camping Tips for Beginners 
---
Chaunie Brusie
Jul 19, 2021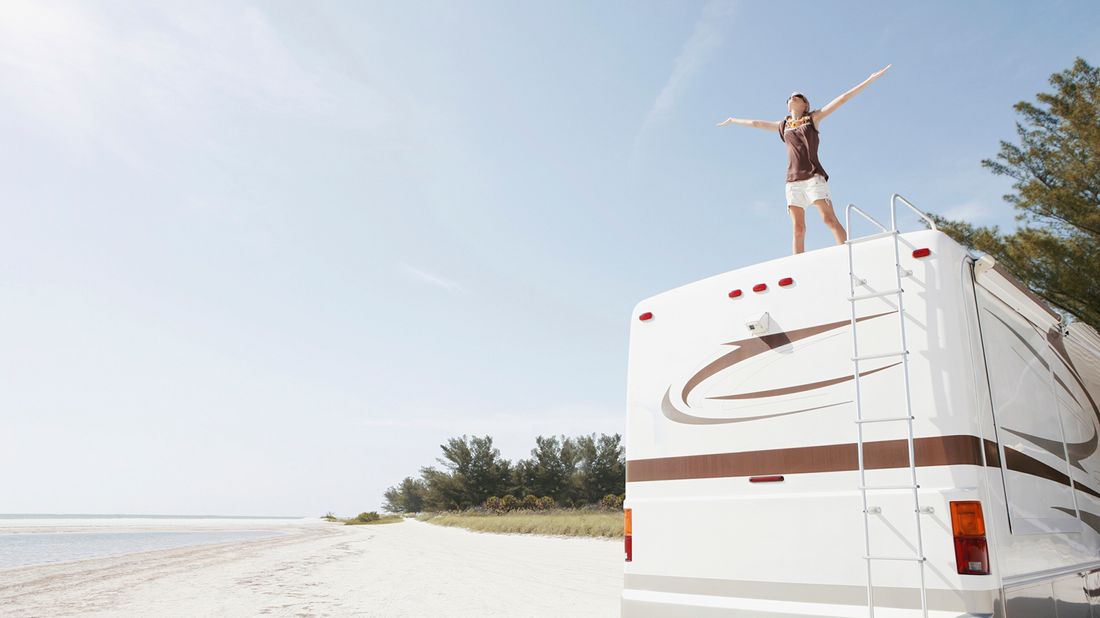 Last year, my husband and I bought a well-loved but perfect-for-us camper. Although we had never really camped before, the price was too good to pass up.  
So, for $2,500, we became the owners of a recreational vehicle. With five children, planning a vacation can be expensive, so we saw camping as a potentially more affordable way for us to travel together.  
We're newbies, so we turned to the pros for advice. Here are a few RV camping tips for beginners.   
DON'T ASSUME CAMPING IS THE CHEAPEST OPTION 
While many people think of camping as a "cheap" vacation, the costs can add up, says Kendall Vitale who, along with husband Nick and their three daughters, travel part-time in their Airstream RV and document their adventures at @therivetingroad.    
For instance, while staying in national or state parks is generally affordable, RV resorts — RV parks with top amenities — can cost just as much or more than a hotel per night. It really comes down to how you plan your trip, what activities you choose and how much you budget for meals. "If you carefully plan, the savings can be huge," Vitale says.   
BE FLEXIBLE WITH LOCATIONS 
According to Monika Geraci, director of PR and communications for GoRVing.com, more than 54 million people plan to go RVing this summer — so sites are booking up months in advance. Some have even tacked on cancellation fees to deter people from booking "just in case" — leading campers to avoid cancelling altogether when it costs more money to cancel than to leave the site unused.  
With campsites getting crowded, consider:  
Boondocking. Free dispersed camping on public land run by the Bureau of Land Management, Department of Fish and Wildlife or the National Forest Service, is known as boondocking. Kelly Burch, author of "Unmapped: Seven Months, 16 Thousand Miles and Life's Ley Lines," is a fan. She traveled to 33 states over seven months in an RV with her family, using the apps iOverlander and Campendium to find free sites. The caveat: With boondocking, you're mostly parking your RV on open land, so there typically aren't hookups for electricity and water.  

Looking outside of national parks. Campsites on national parks tend to book fast, so Jenn Young, co-founder and CMO of Outdoorsy.com, suggests looking at campgrounds that are a few miles away. "They may even offer a shuttle to the national park," she adds.  

Booking for the off-season. You can also save by reserving a campsite mid-week rather than the weekend and in the off-season, too. "Fall camping is my absolute favorite. Everyone wants to huddle around a campfire on cool nights and you can hike without the heat — and with fewer bugs," Vitale says. "Winter camping is a bit more difficult depending on the location, as no one wants to be stuck inside a 30-foot camper with kids all day. But if you plan locations and activities correctly, there are fewer crowds and some unique cooler weather activities to be found."  
CONSIDER A CAMPING MEMBERSHIP 
Vitale belongs to Harvest Hosts, which, for a $99 annual fee, allows members access to hundreds of small businesses, farms, wineries and breweries that will let you park overnight for free. You just promise that you'll purchase something from the business while you're there. Memberships to Good Sam and KOA also offer discounts and other perks.  
PAD YOUR BUDGET FOR UNEXPECTED EXPENSES 
Before you head out, itemize what you think you'll be spending your money on day to day — and add a bit more since you never know what costs may pop up. Burch was surprised by how expensive laundromats were: About $40 a week for her family of four. They also had to grocery shop twice as often as they had planned because of the RV's small refrigerator. 
Consider gas, tolls, emergency repairs and RV essentials like dishes, sheets, blankets, pillows and special RV toilet paper (yes, it's a thing), too. And if you rent an RV, you'll pay for insurance, cleaning fees, and excessive mileage and generator fees. 
RENT AN RV BEFORE YOU BUY  
To decide if the RV life is truly for you, Vitale strongly suggests renting before buying. "Make sure this is something you want to do, because it is essentially a 'working' type of vacation," she explains. "You have to pack, clean, set-up, maintain the camper, etc. And there is no housekeeping." 
You can either rent an RV trailer that attaches to a vehicle that you tow, or rent a motorhome that you can drive and camp in. With renting, you can even have the RV delivered directly to your campsite and be set up for you.  
The costs for renting an RV will vary quite a bit by location, season and number of people traveling, says Christy Hamilton of GoRVing. For a family of up to six in an RV, Hamilton says the average this summer is about $251 a night, while the fall will be around $141 a night. Look to local RV dealers, as well as peer-to-peer RV rentals at sites like Outdoorsy.com and RVShare.com for price estimates. 
RENT OUT YOUR HOME FOR SOME EXTRA CASH 
If you'll be camping for a long stretch of time, you can earn some extra income by renting out your home while you're on the road. Burch used AirBnB to help offset the cost of traveling, netting around $12,000. "AirBnB-ing the house was the biggest tool that let us do this trip for minimal money," she says. 
Take the next step
Our advisors will help to answer your questions — and share knowledge you never knew you needed — to get you to your next goal, and the next.
Get started
Want more? Get financial tips, tools, and more with our monthly newsletter.