7 DIY Interior Design Ideas You Can Do in a Day
---
Natasha Burton
May 29, 2020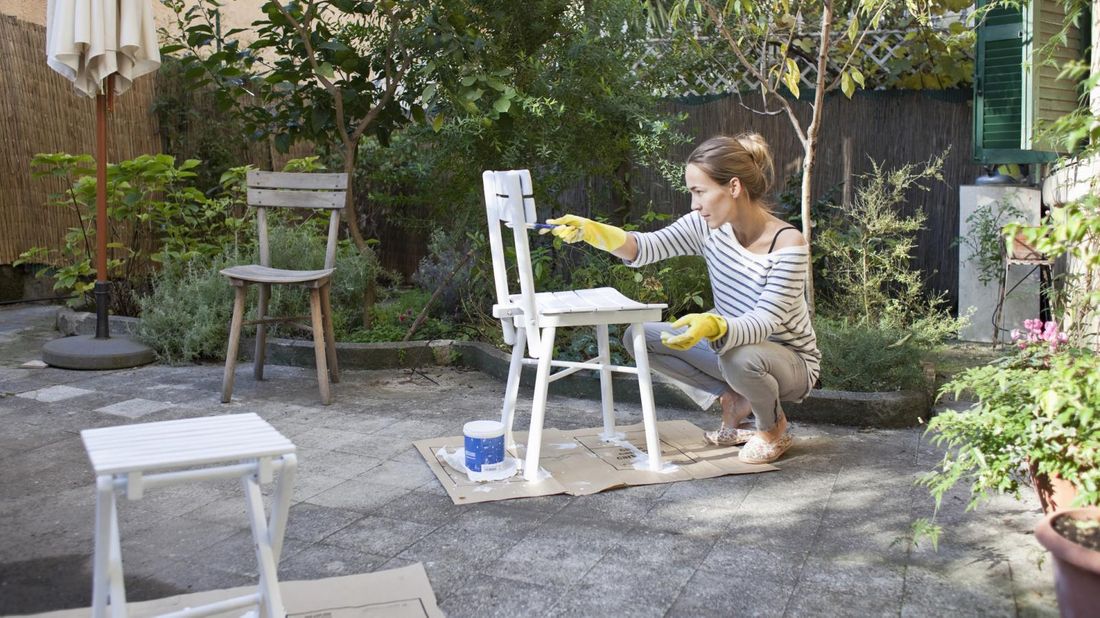 The COVID-19 pandemic has turned us all into homebodies, even if reluctantly. Now that you're not only living at home but also working and playing there, you've likely started compiling a mental list of things you want to improve.
Whether you want to plan a full-scale visual makeover or just take this opportunity to refresh your space, you can start with some easy projects that only take a few hours of hands-on time.
These DIY interior design ideas will give your space a spruced-up look — and you a sweet sense of accomplishment. 
REARRANGE THE FURNITURE
Sometimes just mixing things up a bit can make a big impact. "You may be surprised by just how much you enjoy a new layout," says interior designer Sarah Barnard. "Refreshing your living space can rejuvenate it and provide a welcome visual change."
You might consider moving your couch so it "floats" in the middle of your living room instead of against the wall, or swapping accent chairs, side tables or rugs from one room to another. Even rotating where your potted plants live can make a room feel totally different.
HANG FUN WALLPAPER
Peel-and-stick wallpaper can create a whole new vibe for a space. A bold, outdoorsy print with greenery can be particularly impactful right now when you're spending more of your time inside.
A smaller, low-traffic space is an ideal place for having a little fun. "Bring the outdoors in by hanging botanical wallpaper in your powder room," says Frank Keshishian of L.A. Design Concepts. He adds that you can also use wallpaper as a smaller decorative feature, such as on an accent wall, in a niche or to line the back of a bookshelf.  
OPEN YOUR KITCHEN CABINETS
If your kitchen feels a little closed-in, here's a quick renovation you can do to open up the space — no sledgehammer required. By taking the doors off your cabinets, your kitchen will feel bigger and you can "style" your open shelves using your dishes, cookbooks and canisters. 
First, remove the doors. Then, you'll want to smooth out the surface. "Fill in the screw holes with some wood filler putty," says Eugene Sokol, a home improvement and DIY enthusiast at Plasticine House. "Once that's dry, do a light sanding over the filler with sandpaper and simply touch up the paint over the filler to match the cabinet."
If you want to go a step further, you can paint the backs of your open cabinets in a contrasting color (or use some of that wallpaper!).
SPRUCE UP YOUR ENTRY
As the warmer weather is enticing more people to take neighborhood walks right now, it's a great time to give a cheerful revamp to your front door area.
"Repaint your door in a magnificent color that says welcome," says Elizabeth Dodson, co-founder of HomeZada. You could also hang a eucalyptus or boxwood wreath, place potted plants (or replant your existing pots) on your porch or swap in a new doormat. A homemade sign thanking your postal and delivery workers would be a nice touch, too.
TIE-DYE YOUR OLD LINENS
If you have kids, enlist their help: Scour your home for old linens (sheets, towels, duvets) and give them a new life by dying them a different color — or colors.
"Twisting and knotting and tying strings can have different effects," says architect and interior designer Leslie Saul. "Instead of dye, you can also try bleach."
If you're feeling ambitious, you can make your own dyes using fruits and vegetables, or you could visit Rit Dye to check out the company's array of colors and Tie Dye 101 tips.
REFRESH YOUR FIXTURES
Upgrading fixtures from plastic to metal can instantly elevate your bathroom. "Using your trusted screwdriver, it's a simple process and makes the space more modern," says real estate agent and DIY expert Ana Duperval.
If your bathroom fixtures don't need a makeover, look around your home for other details you can update. "Changing old knobs, pulls and handles in your kitchen — or even on a dresser in the guest room — can make a whole room look fresh," says money-saving expert Andrea Woroch.
If your light fixtures could use some love, spray paint what you have. "Instead of buying a new and expensive light fixture, pick colors to match the rest of your space, whether brushed nickel or bronze," Woroch says. "We did this in our bathroom for $4."
PAINT A PIECE OF FURNITURE
It's surprisingly easy to make an old desk or table look brand-new by slapping on a fresh coat of paint. Painting furniture white can make your space look bigger while a bold color can turn a tired piece into the focal point of the room.
"What's great about this is usually all you need is some sandpaper, a paint brush and paint," says interior designer Steven Diaz, who runs home DIY and decor website Swanky Den. "It's an easy way to change something up and have a big impact. Don't forget to change out the knobs or pulls, too, for the full makeover."
Take the next step
Our advisors will help to answer your questions — and share knowledge you never knew you needed — to get you to your next goal, and the next.
Get started
Want more? Get financial tips, tools, and more with our monthly newsletter.