How OfKors Bakery Quickly Adapted to Stay Open During the Coronavirus
---
Marie Korsykov, as told to Renée Ruggeri
May 18, 2020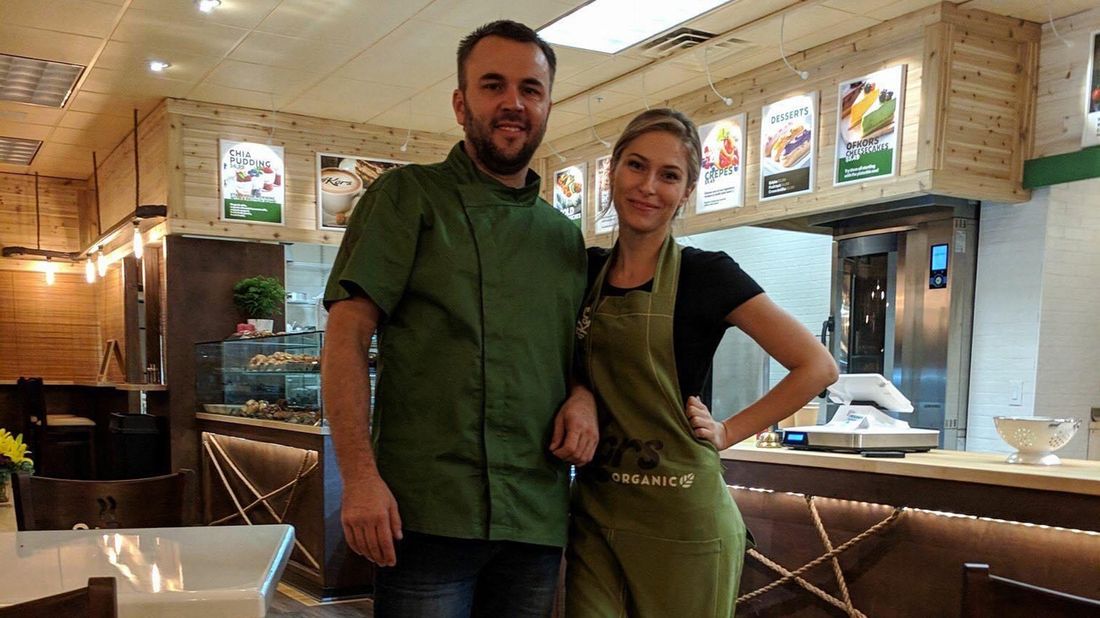 Small business owners have seen their companies change overnight due to the coronavirus. In our #openforbusiness series, we're highlighting Northwestern Mutual clients who have been forced to get creative in order to adapt to these unprecedented times and keep their businesses running. We hope you'll get inspiration from their stories and help support them whenever possible. 
Business: OfKors Bakery 
Owners: Marie and Alex Korsykov
Location: Sarasota, Florida 
Email: ofkorsbakery@gmail.com 
Website: ofkorsbakery.com
My husband, Alex, is a passionate baker. His family has a chain of bakeries in Ukraine, and we couldn't find the same type of place here — homemade items with no preservatives. So we decided to open our own bakery in December 2017.  
Everything is made on site. I am very precise when choosing ingredients; I use organic and local farmers' ingredients when I can. And I always use real fruit — we don't use fillings. I want to sell food that we and our kids want to eat ourselves. I'm proud of the quality. 
Our last name is Korsykov. When we were thinking about the name for the bakery, I kept saying "Where would you go for a great pastry? Of course, you'd come to ours. Of course, it's good." We realized "course" and "Kors" sounded similar, so we settled on "OfKors." Where would you go to get a great pastry? OfKors!
When everything started with the coronavirus, we decided to stay open for as long as we could unless there was a government order to close. Fortunately for us, in Florida our business is considered essential for curbside delivery and takeout.
But we were still affected. Business in Sarasota is seasonal, so we try and serve as many people as possible to survive the summer. We were in the middle of our high season and our best month — and then our sales dropped.
Luckily the local community has kept buying our food and coffee, which has enabled us to keep paying our staff. Our employees are such a blessing for us and we know they depend on their paychecks. When the pandemic struck, our top priority was to keep them working for as long as we could pay them, and while we had to cut hours, that's what we did. I'm beyond grateful to each and every one of them.  
Here are some things we did to adapt.
WE MADE THE STORE SAFER AND MORE CONVENIENT

 
Because we're in the food business, it's always been our priority to keep everything clean and sanitized — especially because we have an open kitchen so our customers can see how we cook and bake. 
We have a lot of older customers who are at risk because of their age. We wanted to do everything we could to protect them so they felt safe. So we set up glass and plastic barriers between the cash register and the counter. It's a simple step, but it was necessary. We also set up a payment system where customers can insert their credit card themselves so they don't have to hand them to us. 
We also had to make the store more convenient for to-go orders. Our customers can order over the phone and we'll bring it out to them. For those who aren't familiar with our assortment,  everything is still visible and covered within the display cases if they decide to come in.  
WE STARTED BAKING IN SMALLER BATCHES
We make everything fresh daily; my husband is the main baker. For breakfast, brunch and lunch, we have a variety of baked goods, stuffed croissants, crepes, salads and sandwiches. In the evenings, we mostly sell desserts with Italian coffee. 
We still wanted to give people options to choose from, but we've just made smaller batches — we may only have five raspberry croissants one day. But we know our regular customers and what they like, so we make sure to keep making those. It's been such a pleasure to see them still come in every day for their cinnamon roll. We can't take that opportunity away. 
For our other menu items like crepes and sandwiches, we make those fresh as they're ordered, so that hasn't changed. And while a lot of food places have started selling essential grocery items, we've always sold bread, so we're continuing to have that available. 
WE'RE HELPING FACILITATE DONATIONS

 
We're always open to supporting different community events and local businesses, but right now we're not be able to make large donations ourselves. But one of our regular customers came in and bought 100 muffins from us, which we were able to deliver to a nearby hospital. He spread the word, and then his colleagues started ordering baked goods from us that were given to the local police and fire departments. It's been wonderful to see how supportive everyone is during this hard time.
I love our business, and I'm blessed to do what I really like. When I see these people still coming in, knowing they can survive without my cup of coffee, it melts my heart.
These are difficult circumstances, and it's easy to get absorbed by panic and fear. But seeing the kindness being shown toward each other is very heartwarming. It's about trying to find the good and, for many of us, it's given us time to slow down. We have a chance to spend more time with our families, and that's something good to focus on. I hope everyone can stay safe and sane. We'll get through this together. 
Marie and Alex Korsykov are clients of Northwestern Mutual. They work with Financial Advisor Olga Strelkov. 
Do you know a Northwestern Mutual client who owns a small business that has had to pivot due to the coronavirus? Click here to share the story with our editorial team.
Take the next step
Our advisors will help to answer your questions — and share knowledge you never knew you needed — to get you to your next goal, and the next.
Get started
Want more? Get financial tips, tools, and more with our monthly newsletter.