Want to Quit Your Job and Go Full-Time Freelance? Ask These 6 Questions First
---
Natasha Burton
Sep 28, 2021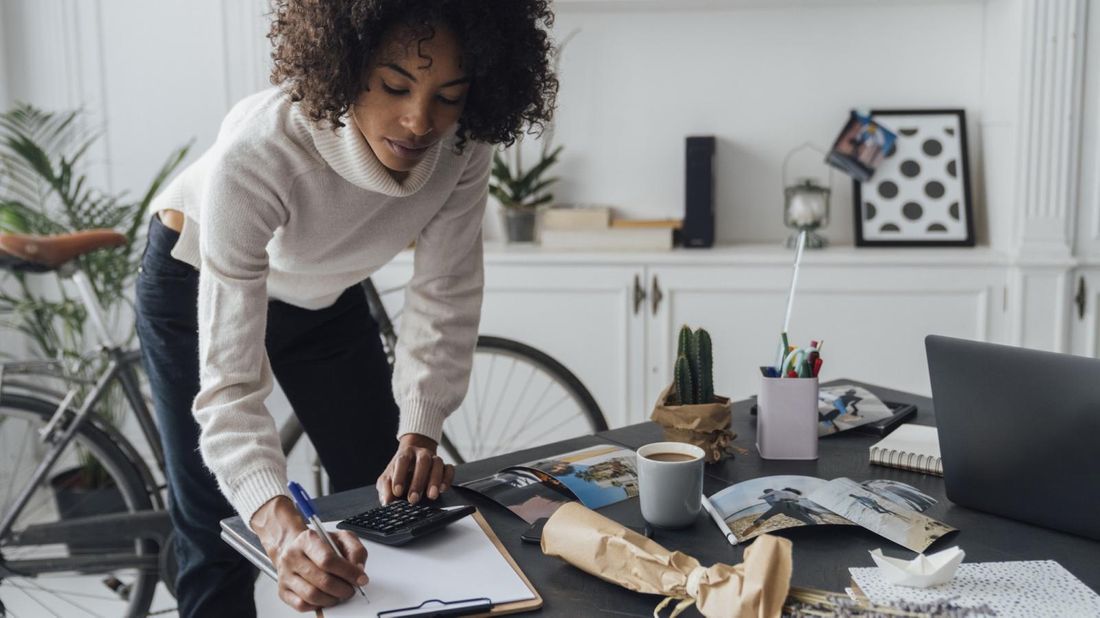 After adjusting to the idea of remote work, you may be dreaming of transitioning from a traditional 9-to-5 job to a more flexible career. If so, you might be wondering what you'll have to do to quit your job to go full-time freelance.  
Thirty-six percent of American workers want to be their own boss (Northwestern Mutual Survey; August 2021). While that may sound enticing, what you gain in freedom will also require some sacrifices, from giving up the security of a regular income to a host of company benefits. 
Before you commit to making a change, you'll need to ask yourself these key questions to determine if freelancing full-time is right for you.
WHAT EXPERTISE CAN I OFFER? 
Before you do anything, you'll first need to figure out what in-demand skills or services you can provide. "A niche helps people understand exactly how you can help them," says business architect Luisa Zhou, who specializes in helping people turn their skills into coaching, consulting and freelance businesses.  
"For example, if you offer web design services to software businesses, you will immediately stand out," she says. "A software client can trust that you understand their specific needs. And because the benefits of your services are clearer to your clients, you can charge higher rates."
HOW CAN I BUILD A CLIENT BASE? 
Don't get too hung up on perfecting your brand — at least not at first. Instead, dedicate your time and energy into establishing a solid clientele.
"Focus on the few steps you need to take to get clients fast instead of wasting time on building your website or printing business cards," Zhou says. "My main client-acquisition strategy was to get clients from Facebook groups. That's why my daily activities involved building relationships in those groups and posting content. For you, it might be engaging on LinkedIn, cold pitching clients or reaching out to your network. Either way, focus relentlessly on that one activity." 
Speaking of social media: Revise your social and professional profiles to reflect your new venture. "Does your LinkedIn page make it clear to even the most casual observer that you're freelancing in your given field?" asks career coach Carlota Zimmerman. "Does it give people info on how to hire you, and reasons they should? Do not expect that people will contact you if they can't immediately find the information they need. They'll go on down the list to the person who makes it easy."
HOW HAVE OTHER FREELANCERS MADE THE LEAP? 
Seek out friends, relatives or anyone in your professional network who has made the jump to freelance work so you can pick their brains about how they got started and what they wish they'd known before they made the transition, Zimmerman says. This is a great way to get a sense of the potential obstacles in your path.
When you do meet, show them that you respect their time. "Make sure to have Googled them, join the calls on time and send a thank-you follow-up note or a gift card to Starbucks," Zimmerman adds. "For freelancers, this time they're spending on you is time that they are not making money."
HOW ARE MY FINANCES? 
Once you've determined that you want to pursue freelancing full time, the next step is to take a hard look at your financial situation.
"The more realistic you are with yourself about what responsibilities you have to meet every month, the more focused you can be in organizing a plan," Zimmerman says. "It's hard enough to start freelancing from scratch, but almost impossible if your bills are out of control." Create a budget so you know what your expenses are each month and what financial goals you're trying to fund so you know how much income you would need to cover those.
It's also crucial to identify all the tasks you'd need to take on, or if you'd need to outsource those responsibilities. "At first, you're going to need to find clients, serve those clients and do all the back-office stuff," says Kate Sullivan, a business psychologist who works with people looking to transition to freelance careers. "If you feel overwhelmed just thinking about that, you may want to put your energy into looking for a more satisfying regular job instead of starting up a freelance business." 
SHOULD I KEEP MY DAY JOB? 
Ramping up a business while doing your regular job can be tough, and will no doubt be an adjustment. But if you haven't built up a financial cushion just yet, consider hanging onto your current gig for as long as you can while you're building savings.
Having that extra income gives you the chance to hunt for clients and handle any startup expenses without stressing about when the next check is coming in, Zhou says. It also gives you some breathing room to learn the new entrepreneurial skills you'll need to master, from working with clients to selling your services, which will ease your transition. And remember, you'll have new business costs to cover once you go full-time freelance that your employer previously paid for; these should be worked into your budget.
DO I HAVE A DEDICATED SPACE TO WORK? 
You may have already set up a home office over the past 18 months. If not, now's the time to figure out where and how you'll work.
That includes creating a routine where you set specific work hours — when you'll start and stop working each day, and whether you'll need to bank hours in the early mornings and late evenings to work around kids' schedules or your own energy.  
"You must have a space apart from your regular sleeping-and-relaxing spaces to help your brain get into work mode every day, and to help you maintain your sanity and productivity — especially as a new freelancer," says Sullivan.
Take the next step
Our advisors will help to answer your questions — and share knowledge you never knew you needed — to get you to your next goal, and the next.
Get started